Carnival Cruise Ship Finally Limps Into Port: 'Was Like The Hunger Games Out There,' Says Passenger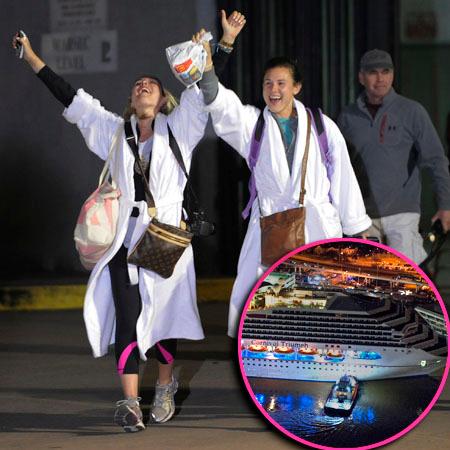 The Carnival cruise from hell is finally over, but the nightmares of the experience are continuing for many passengers.
Conditions on board the ship, during the days it bobbed helplessly at sea, were "like the Hunger Games," said Kendall Jenkins, from Houston.
The Carnival Triumph, with an estimated 4,200 people aboard, finally docked at the Alabama cruise terminal in Mobile, late Thursday night, after five days of being stranded in the Gulf of Mexico after the ship's power went out following an engine fire. Passengers were left with limited food and broken plumbing that cause toilets to overflow.
Article continues below advertisement
Carnival Chief Executive Gerry Cahill held a news conference as the ship docked, admitting his company's wrongdoing in this instance.
"We pride ourselves on providing our guests with great vacations -- clearly we failed," Cahill said.
The company said they will send those aboard a full refund, credit for a future trip and $500 in the wake of the fiasco; and that no one died or suffered a serious injury on the ride.
Carnival routed the 3,143 passengers on buses to New Orleans and Texas, and planned to further help the passengers go home. Off the ill-fated vessel, passengers expressed feelings both of relief and resentment after the arduous journey, in which the ship's hallways were drenched in feces and urine.
"The smell was not good," Houston native Janie Esparza said. "It's just been a really taxing experience for us. Things started to break down a few days ago -- people just on edge. There were a lot of angry people on the ship."
Texas native Brittany Ferguson, 24, said, "I'm feeling awesome just to see land and buildings … the scariest part was just not knowing when we'd get back."
"We kissed the ground when we got off!" Houston native Kendall Jenkins, 24, adding she and others aboard "had nightmares about the Titanic."