Cruise From Hell! Passengers Turn 'Savages' -- Fighting For Food On Stranded Ship With No Water, Toilets Or Electricity!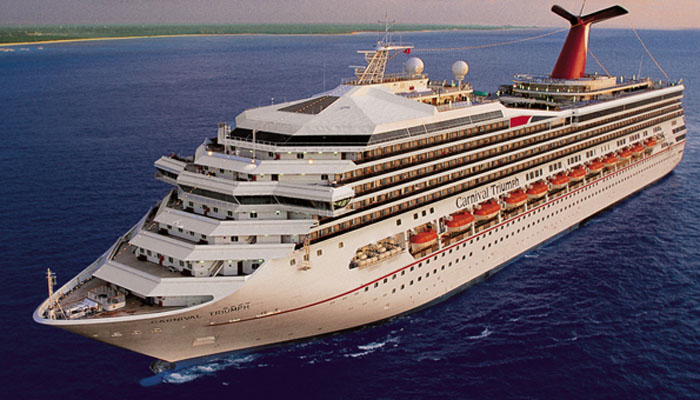 More than 4,000 people on board a cruise ship stranded in the Gulf of Mexico have been branded "savages" after being forced to fight for food, RadarOnline.com is reporting.
An engine room fire on the Carnival Triumph cruise ship on Sunday meant the vessel was robbed of power 150 miles off the coast of Mexico, with passengers forced to sleep on deck in makeshift tents because there is no air conditioning in the cabins.
Article continues below advertisement
Worse still, toilets on board the luxury liner are out of order, meaning passengers have had to make do with bags or buckets.
The ship was adrift off the southern Yucatan peninsula for an entire day before a tugboat came to the rescue --it is now being taken to Progreso, Mexico where it is expected to arrive Wednesday.
Despite the dire conditions, no injuries were reported among the 3,150 passengers and 1,100 crew members, who are still without toilets, water, electricity and food as they await delivery of supplies.
Brent Nutt, whose wife Bethany is on board, said he received a call from his other half outlining the horrors on the ship.
"She said that that would be the last phone call I was going to get. They have no power, there's no way to charge cell phones or anything," he told CNN.
"To hear your loved one crying, saying she just wants off of the ship and it all to end....
"All of the girls in their group were calling their family members as well and they were crying. Everybody wants off of this.
Article continues below advertisement
"It's a big mess, there's no power, there's no toilets, there's no food - it's like a bunch of savages on there.
"People are fighting over food and stuff - that's a bunch of savages. It's ridiculous.
"Carnival has nothing at all in plan in case something like this happens."
Stricken Cruise Ship Reaches Land After Three Days Of Chaos Adrift With No Power
When quizzed if his wife had been helped, Nutt said: "The only help they've got is that they've told them they needed to stay on the decks or in common areas."
And a blogger writing on Cruise Critic with the user name Clinty76, whose wife and mother-in-law are on the cruise, also revealed the horrors on board.
Costa Cruise Ship Adrift In Pirate-Infested Waters
He wrote that they told him: "We are about to get supplies from another cruise ship and apparently the tug boats should be here tomorrow around noon.
"We have no power AT ALL, which means we can't use the toilets, wash our hands, or take a shower."