Costa Cruise Ship Adrift In Pirate-Infested Waters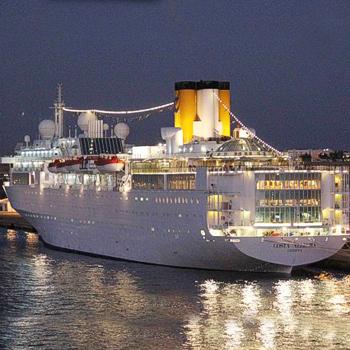 By Debbie Emery - Radar Reporter
Another crisis has rocked the boat for the Costa Cruise corporation as more than a thousand people are floating adrift in a huge vessel owned by the company after a fire broke out on board causing them to lose power.
The Costa Allegra is sitting undefended in the Indian Ocean 200 miles from the Seychelles Islands off mainland Africa in an area that is notorious for being infested by modern-day pillaging pirates, reported ABCNews.com.
Article continues below advertisement
It is the second high-profile disaster for the cruise company that also owns the ill-fated Costa Concordia, which crashed off the coast of Italy on January 13.
With 32 confirmed dead and seven more still missing, the search for survivors was called off last week as Captain Francesco Schettino remains under house arrest facing charges of manslaughter and abandoning ship.
Costa was quick to carry out some crisis management as soon as the Allegra's precarious fate was reported, by releasing a statement saying no one was injured, and the blaze that broke out in the engine room in the ship's aft was quickly extinguished.
"The passengers and crew are in safe condition," said Commander Cosimo Nicastro of the Italian coast guard, who are sending rescue vessels and tug boats to the ship's location. "They are not necessarily comfortable because the ship only has emergency power on board, but they are safe.
"The winds right now are blowing at about 25 knots but we are not worried because it is a big ship, so the weather is not a concern," he went on to explain.
Article continues below advertisement
The biggest concern for loved ones awaiting news on the vacationers is the risk of Somali pirates, who had made a rash of recent attacks in the waters near Tanzania but they have never ambushed anything as large as a cruise ship.
Claudio Izzi, the Italian consul in the Seychelles, said a security detachment of nine Italian marines were on board and were "well trained and ready to protect civilians," reported the Telegraph.co.uk.
Among the 636 passengers stuck in the ship are eight Americans, who were hoping for the trip of a lifetime on the month-long cruise that was scheduled to make numerous stops at island nations off the east coast of Africa along the way to Savona, Italy.
Smaller than sister ship the Concordia, the 29,000-tonne Costa Allegra had left the port of Diego Suarez in Madagascar on Saturday and had been due to dock in Victoria, the capital of the Seychelles, on Tuesday.