Cruise Ship Disaster: More Bodies Found On Stricken Costa Concordia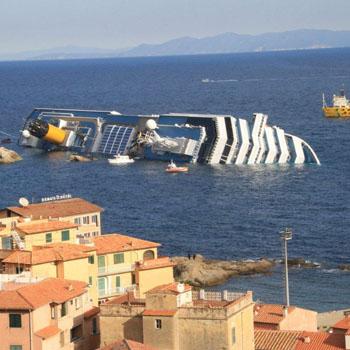 By Debbie Emery - RadarOnline.com Reporter
Salvage workers scouring the wreck of the Costa Concordia cruise ship that is lying stricken off the coast of Italy found eight more bodies on Wednesday.
The latest grisly discoveries bring the total number of confirmed dead from the January 13 disaster to 25, reported the Chicago Tribune, and included the bodies of a woman and a five-year-old girl. Seven people out of the more than 4,200 who boarded the ship remain unaccounted for.
Article continues below advertisement
Among the missing passengers are an elderly American couple from Minnesota, Barbara and Gerald Heil.
As RadarOnline.com previously reported, the $450 million vessel crashed into a reef four miles off course near the island of Giglio.
Survivors described the chaos and panic on the ship as they desperately tried to escape, while Captain Francesco Schettino claimed he "tripped" into a lifeboat and was shuttled to safety.
Still under house arrest while Italian authorities investigate the crash, Schettino faces charges of manslaughter and abandoning ship.
According to Italian news reports, Tuscan prosecutors are notifying other people that they were formally being investigated, including four ship's officers and three officials from the Italian cruise company, Costa Crociere.
Italian authorities say that bad weather has hampered the ongoing search efforts with four of the latest bodies remaining on the ship, and they don't know how long it will be before their tragic mission is completed. Salvage crews are focusing on pumping almost 2,400 tons of diesel fuel from the vast hull, which lies partially submerged near the popular vacation spot that is famous for its pristine waters, coral reefs and abundant marine life, including whales and dolphins.
Article continues below advertisement