Stricken Cruise Ship Reaches Land After Three Days Of Chaos Adrift With No Power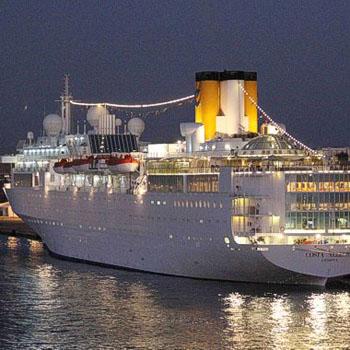 Article continues below advertisement
More than a thousand passengers and crew had been stuck in diabolical conditions with no fresh water or air conditioning and forced to sleep outside to escape the 100-plus temperatures indoors.
"We were very hot and the sewage was very poor," revealed Eleanor Bradwell of Athens, Georgia, who was one of the 636 of passengers (eight of whom are American) who relied on water and food flown in by helicopters. "We are just elated to be off the ship."
As RadarOnline.com previously reported, it is the second high-profile disaster for the cruise company that also owns the ill-fated Costa Concordia, which crashed off the coast of Italy on January 13.
With 32 confirmed dead and seven more still missing, the search for survivors was called off last week as Captain Francesco Schettino remains under house arrest facing charges of manslaughter and abandoning ship.
Article continues below advertisement
The excited holiday-makers who had boarded the month-long cruise on the Allegra that was scheduled to make numerous stops at island nations off the east coast of Africa along the way to Savona, Italy, were relieved just to get a hot shower and a warm meal when they rushed off the massive liner.
Eleanor's husband, Gordon Bradwell revealed how they learned there was a problem with the Allegra while eating lunch on Monday. "There was a bit of chaos and confusion," he said.
"They began to lower the boats. They were very disorganized and unprofessional in the way they handled it. It could have been a disaster of biblical proportions if that fire had gotten out of control. Who knows what the results could have been."
"We had to sleep on deck because there was no air conditioning and the cabins stank because we couldn't flush the toilets," Alena Daem, a 62-year-old passenger from Belgium, told the AFP news agency.
Article continues below advertisement
The shambled emergency effort by the crew is reminiscent of the chaos aboard the Concordia after it capsized, which passengers described as "every man for himself."
Costa Cruises has offered passengers free hotel rooms if they want to stay in Seychelles for the International Carnival of Victoria, while others are being flown back to Italy on three charter planes.