Bodies Of American Couple Found On Stricken Cruise Costa Concordia Finally Identified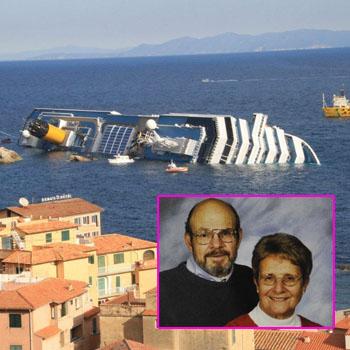 By Debbie Emery - RadarOnline.com Reporter
More than three months after the cruise ship Costa Concordia sank off the coast of Italy, the two missing American passengers have been confirmed dead after their bodies were identified several weeks after they were found.
Barbara and Gerald Heil of White Bear Lake, Minnesota, were the only two U.S. victims to die in the accident that occurred on January 13, and on Tuesday their family confirmed their passing in an online statement, reported local paper the Hastings Star Gazette.
Article continues below advertisement
"We will now be able to move forward and bring them home to rest," read the Heil family blog. "The rescue and recovery crew on the island of Giglio have been relentless in their mission to find the missing and have given us hope through this whole process.
"We cannot thank them enough for continuing to risk their lives in an effort to find our parents. Our hearts go out to the two families that are still missing loved ones. We will continue to hope and pray for closure for those families."
Article continues below advertisement