Costa Concordia Was SECOND Cruise Ship Crashed By Captain Francesco Schettino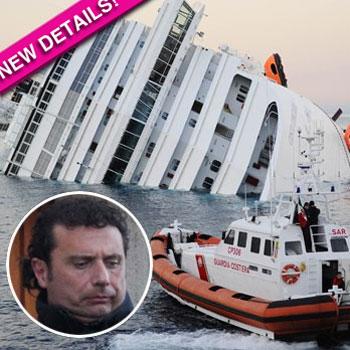 The Costa Concordia was the second cruise ship crashed with Captain Francesco Schettino at the helm, according to internal company documents leaked on Thursday and published in several Italian newspapers.
The captain, who has denied any wrongdoing in the wreck of the Costa Concordia, also damaged the Aida Blu cruise ship in June 2010 after sailing too quickly into a German harbor where he "maneuvered at a speed of 7.7 to 7.9 knots during entry into the port of Warnemunde."
Article continues below advertisement
Schettino's response to his employer: "I did not know the speed limit and have not received notification of an infraction from the relevant authorities."
As RadarOnline.com previously reported, Schettino has been dubbed "Captain Coward" for abandoning his the Costa Concordia after it went down off the coast of Giglio, Italy. He faces manslaughter charges after 32 people were confirmed dead. Seven more are still missing.
In an expose published by the popular Italian newspaper La Stampa, sources claimed there was a culture of drug and alcohol consumption on board Costa Crociere ships including Costa Concordia. One woman, a previous employee of the Genoa-based company, was quoted as saying drug use was common among ship personnel. "I saw directly with my own eyes senior officers take cocaine."
It was reported last month that Schettino's hair had tested positive for cocaine, and now Schettino's lawyers have asked for a retest.
Article continues below advertisement