Inside The Honeymoon From Hell! Newlyweds Left Stranded On 'Floating Petri Dish' Carnival Cruise Ship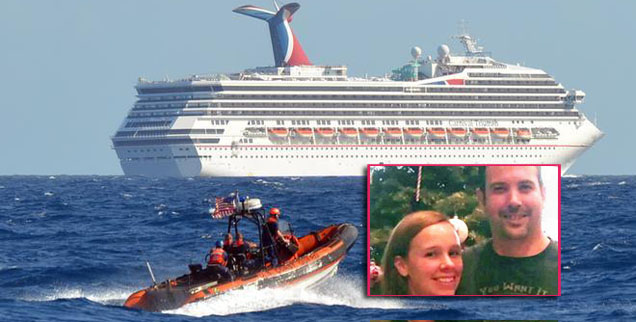 It has been described as being a "floating petri dish," with raw sewage running down the walls and urine soaked carpets.
But for one Texas couple the short trip on the doomed Carnival Cruise ship has become a honeymoon from hell!
Rob Mowlam, 37, and Stephanie Stevenson, 27, got married on the now stranded Carnival Triumph on Saturday. Their dream wedding was supposed to be part of a four-day luxury cruise that was actually part of a gift the bride's boss gave to his staff.
Article continues below advertisement
Instead, they have been left bobbing along in the Gulf of Mexico for days without electricity, running water and limited food supplies.
Passengers have been forced to go to the bathroom in plastic bags -- and, as the cruise ship was finally being towed to the Mobile, Alabama port, aerial shots showed people sleeping on the top deck, braving the elements, wearing bathrobes and bed sheets on what looked like a nautical shantytown.
"It's an atrocious scene to be subjected to," James Mowlam III, the groom's brother, told ABCNews.com.
He said has not been able to talk to Rob personally, but that their father has had limited communication.
"It would be my guess that this would probably not be on anyone's great list of memorable wedding experiences," he said.
"Although my mom told him that she was hoping they had a memorable wedding and I think this would classify as a memorable wedding experience."
Article continues below advertisement
Meanwhile, the bride's brother said that, luckily, his sister is tough.
"She might be a little aggravated," Justin Davis said. "But I'd say she's probably handling it really well."
Jorge Rodriguez, a doctor of internal medicine, told CNN that by now the Triumph must be a "floating petri dish."
"So far there hasn't been an outbreak of anything but, it's in the Gulf. It's warm," he said. "You don't have sanitary conditions so hopefully they'll get back to shore…before anything breaks out."
As RadarOnline.com previously reported, 4,229 passengers and crewmembers were left stranded on the Triumph after a fire broke out in the engine room Sunday knocking out the power system.
Captain Of Cruise Ship That Sank, Killing 32, Sues For Wrongful Termination
The ship is expected to dock in Mobile on Thursday evening.
But the nightmare still won't be over as Carnival has arranged for its disgruntled passengers to either spend hours being bussed to Galveston or Houston, Texas or spend a night in a New Orleans hotel before being flown to Houston on Friday.