Amazing Viral Video! Bride & Groom Surprised By Singing 'Les Miz' Flash Mob At Reception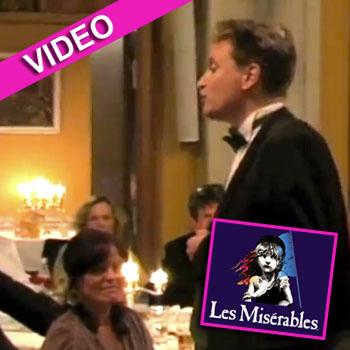 The song One Day More from the hit musical Les Miserables may not seem like an obvious wedding song – but in this new viral video, several guests totally blow away the bride and groom with their surprise singing flash mob!
Since the video, shot at the wedding reception of Danish couple Susanne and Sune Vibæk Svanekier, hit the web in May, hundreds of thousands of people have seen it and it's gaining stream, thanks to all the attention focused on the upcoming release of the movie musical Les Miserables.
Article continues below advertisement
The newlyweds were completely taken by surprise as one-by-one their wedding guests stood up during the reception at the Workers' Museum in Copenhagen and burst into song.
And wait until you hear their booming voices!
Watch the video on RadarOnline.com
BTW: The movie Les Miserables, starring Hugh Jackman, Russell Crowe, Anne Hathaway and Amanda Seyfried, hits theaters in the U.S. on Christmas Day.
youtube