On Board Cruise From Hell! Conditions Deteriorating By The Minute: Sewage Running Down Walls, Urine Soaked Carpets!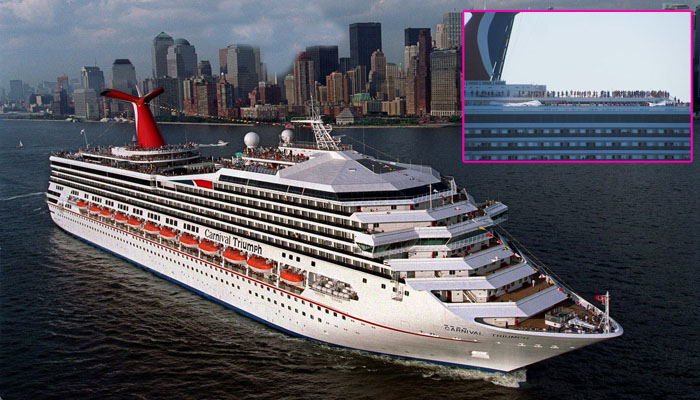 Passengers on board the powerless Carnival Triumph cruise ship have revealed that conditions on the luxury liner have been deteriorating by the minute, as carpets become soaked in urine, onion sandwiches are handed out for
dinner and sewage runs down the walls RadarOnline.com is reporting.
The vessel, which was stranded in the Gulf of Mexico after a fire broke out in its engine room, is currently being towed to Mobile, Alabama, where it is expected to dock on Thursday.
Article continues below advertisement
Debra Rightmire, on board the nightmare cruise, texted ABC: "Conditions are getting worse by the hour. Cabin carpets are wet with urine and water.
"Toilets are overflowing in the cabins, we're having to sleep in the hallways. Onion and cucumber sandwiches last night."
Donna Gutzman, another stranded passenger, wrote: "There's no lights, no water, we can't flush. Some people were able to shower."
As RadarOnline.com previously reported, those on board have been forced to sleep on deck in makeshift tents as the air conditioning isn't working and the cabins have become unbearably hot.
Some holidaymakers have also been reduced to using bags or buckets as toilets as raw sewage runs down the walls.
David Raynes, a passenger on board the Triumph's sister ship the Carnival Legend, which finally dropped off emergency supplies on Monday, wrote on Facebook: "Our ship shuttled supplies to them, which was not an easy task due to the wind and high waves – it was hard for the boat they were using to get up close to the other cruise ship and then back to ours. They made at least two trips.
Article continues below advertisement
"Another ship, the Conquest, came along to bring more food to them. We could hear announcements from the Triumph, and their guests cheered when they heard the news that a tugboat was just 17 miles away. It arrived before we left. We were there about five hours.
"The Triumph made a pass by us and the guests cheered and waved to us."
Despite the dire conditions, there have thankfully been no reported injuries as of yet.
As reported Monday, more than 4,000 people on board the Carnival Triumph were branded "savages" after fighting broke out over food.
Costa Cruise Ship Adrift In Pirate-Infested Waters
Brent Nutt, whose wife Bethany is on board, said he received a call from his other half outlining the horrors on the ship.
"She said that that would be the last phone call I was going to get. They have no power, there's no way to charge cell phones or anything," he told CNN.
Article continues below advertisement
Stricken Cruise Ship Reaches Land After Three Days Of Chaos Adrift With No Power
"To hear your loved one crying, saying she just wants off of the ship and it all to end…. All of the girls in their group were calling their family members as well and they were crying. Everybody wants off of this.
"It's a big mess, there's no power, there's no toilets, there's no food – it's like a bunch of savages on there. People are fighting over food and stuff – that's a bunch of savages. It's ridiculous.