How To Save A Sinking Ship? TODAY Executives Hunting For A 'Bromance' Partner For Matt Lauer!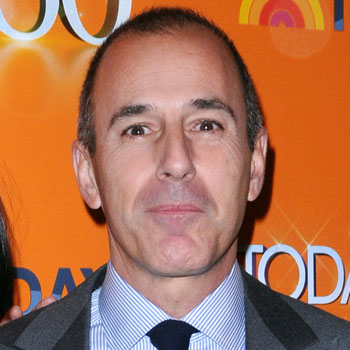 In a last ditch attempt to improve TODAY's ratings, executives want to find Matt Lauer a male co-host, according to a new report.
They believe that finding a "bromance" partner will help the ailing show and are hoping to replicate the chemistry between Lauer, 54, and his best friend Bryant Gumbel, who left the show in January 1997.
One thing's for sure, changes are expected when TODAY's new executives Alexandra Wallace and Don Nash begin their posts next week.
Article continues below advertisement
"If you look at Josh Elliott and Sam Champion on Good Morning America, they are really great friends and that shines through on air - not since Matt and Bryant have we seen chemistry like this on morning TV," a source told Mail Online.
Lauer's relationship with co-host Al Roker – a friend of the departed Ann Curry – is frosty to say the least. Curry, 56, was dumped from the show back in June and the blame was pinned on Lauer.
But, despite his unpopularity, one source insists that Lauer – who earns a staggering $25 million a year – won't be facing the axe anytime soon, despite numerous reports to the contrary.
"Matt is on a huge deal, he's hugely important to NBC - he's not going anywhere," a source close to TODAY told Mail Online.
"Of course, there are huge issues at TODAY and the big problem will be when the affiliates who pay all the money to air TODAY start complaining about ratings - they're never afraid to call a spade a spade.
Article continues below advertisement
"Every ratings point is worth millions in advertising revenue and TODAY knows it's not going to win its spot back overnight.
"We're waiting to see if Don Nash can do something bold. The consensus in the corridors at NBC is that TODAY desperately needs the right team. They need chemistry and the anchors need people to play with.
"Viewers like to see the presenters connecting, it's all about connectibility and there's no one for Matt to banter with.