End Of The Road For Matt Lauer? TODAY Host 'To Be Ousted' Claims Report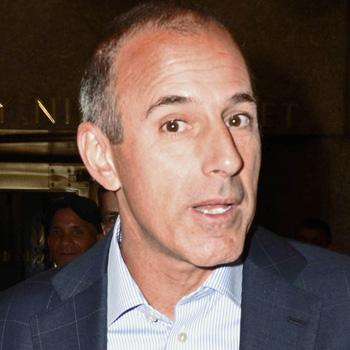 After months of off-camera tensions, Ann Curry's departure and free falling ratings, TODAY show host Matt Lauer is going to be fired, according to a new report in the National Enquirer.
An insider at the NBC morning show has told the Enquirer that the 54-year-old -- who gets paid a massive $21.5 million a year -- is facing the axe. And apparently Lauer's colleagues won't be shedding any tears his departure.
Article continues below advertisement
The source says: "It's just desserts. Matt is finally getting what he deserves!
"His years-long feuds with former co-hosts Katie Couric, Meredith Vieira and Ann Curry have taken their toll. Everyone has turned against him and Matt is going to be ousted because he's being blamed for the show's collapse."
Until recently TODAY ruled the breakfast TV airwaves. But after ratings started to slip -- and just one year after replacing Vieira -- Curry made a tearful exit from the co-host spot in June. Lauer was rumored to be behind her sudden departure.
In the meantime, Good Morning America has replaced TODAY in the number one spot and behind-the-scenes many reportedly blame the once popular co-host.
Within recent weeks NBC execs have taken big steps to revive the ailing show, including making Willie Geist TODAY co-host during the 9 a.m. hour.
"Adding a fresh new guy like Willie to the mix is just what Al feels TODAY needs to help pull the show out of the ratings doldrums and compete with GMA," the source tells the Enquirer.
Article continues below advertisement