Exclusive
TODAY Executive Producer Wasn't Forced Out - Jim Bell 'Wanted Off The Sinking Ship'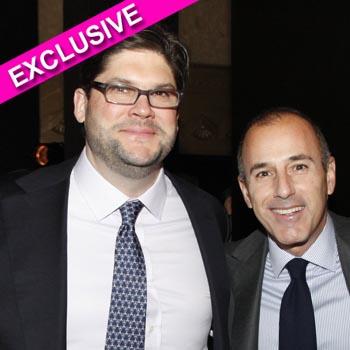 By Jen Heger - RadarOnline.com Assistant Managing Editor
Former TODAY executive producer Jim Bell wasn't forced out of the job he had held since 2005. He told network executives he wanted to transfer to the sports division because he was tired of being blamed for the morning show's demise, RadarOnline.com is exclusively reporting.
"Jim just had enough of being blamed for the TODAY ratings slump," a show insider tells RadarOnline.com. "He had been getting up everyday at 2:30 a.m. since 2005 and worked so hard to expand the show and keep viewers coming back. Jim recognized that the show was going to continue to make news for all the wrong reasons while he was the executive producer so he decided it was time to jump ship.
Article continues below advertisement
"Jim couldn't understand the outrage that came after Ann Curry was fired from the co-host gig. He thought that everyone would move on from it but TODAY viewers have continued to bring up Ann's removal from the show. Jim just wanted out and the network moved him to the sports division where he will primarily be in charge of Olympic coverage."
As previously reported, Lauer's on air reporting is going to be cut back as Alexandra Wallace, the incoming executive in charge of the show's staff, recognizes that viewers are tuning out in droves because of him.
"Matt Lauer's on air reporting and interviews for the TODAY show are going to be cut back because Alexandra recognizes that he is widely unpopular and many view him to be responsible for Ann Curry being fired from the co-host spot," a show insider previously told RadarOnline.com.
"This isn't personal, but Alexandra will be doing whatever is necessary to get the show back in first place, even if that means ruffling Lauer's feathers. Look for Willie Geist, one of the co-hosts of the third hour, to be featured more during the first two hours of the show because viewers absolutely love him. Willie comes across as genuine and warm, unlike Matt Lauer."
Article continues below advertisement
Meanwhile, the new executive producer of TODAY is Don Nash, who has been in charge of Weekend TODAY since 2002.
Steve Capus, president of NBC News said in a statement Wednesday: "Don Nash deserves to be at the helm of TODAY. He is a beloved member of the TODAY family who brings vision, commitment and a deep familiarity to all aspects of the broadcast. The formidable individual talents of Alex, Don and the TODAY leadership are now combined and I'm confident our team is well positioned for success."