Exclusive
Matt Lauer Will Be Asked To Take 'Significant Pay Cut' If TODAY Ratings Continue To Decline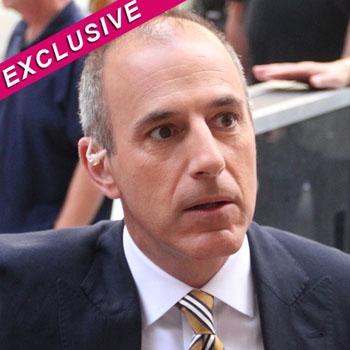 By Jen Heger - RadarOnline.com Assistant Managing Editor
Matt Lauer will be asked to take a significant pay cut if TODAY ratings continue to decline, RadarOnline.com is exclusively reporting.
"Matt Lauer will be asked to take a significant cut in his $25 million salary if TODAY doesn't win the key November sweeps," a source close to the situation tells RadarOnline.com. "The May and November sweeps dictate how much the networks can charge for advertising and they are extremely important to the bottom line. The TODAY show had always been a cash cow for NBC, generating hundreds of millions of dollars of revenue.
Article continues below advertisement
"Comcast, which now owns NBC Universal, is going through the budgets of each show and right now, they are focusing on the news division. Matt's salary is the biggest part of the TODAY show's budget and with Good Morning America now routinely beating them, it's just hard to justify that salary.
"Matt is under contract so it will have to be a voluntary decision, but the argument will be made that if he doesn't agree to lose some of his salary then people's jobs will have to be cut. Bottom line is money will have to be saved somewhere and he will be asked to do the 'right thing' by his staff."
As RadarOnline.com previously reported, Lauer's popularity with viewers is in a free fall. According to the influential Q Scores, his "likability" has plummeted 25 percent in just 12 months.
Q Scores are one of the most important factors companies use in deciding where to advertise, and the organization's analysis of Lauer mirrors an internal study done at NBC, according to The New York Daily News.
The likability collapse covered the year when Meredith Vieira left Lauer's side on the morning show's anchor desk, to be replaced by Ann Curry and then by Savannah Guthrie.
Article continues below advertisement
"It raises a flag," Henry Schafer, Executive Vice President of Q Scores, told The News. "These morning shows are driven by personalities — so there's a real challenge out there for NBC News."
Recently, The Tonight Show cut 20 to 25 staffers and host Jay Leno took what is being called a "tremendous" pay cut to prevent even more lost jobs. The development is believed to be a result of NBC being acquired by Comcast and execs there demanding that everything at the network be streamlined.
Meanwhile, staffers of TODAY "are extremely nervous that there are going to be lay-offs, and no one believes for one second that Matt will go along with a pay cut. Matt's contract is iron-clad and he can't be forced to take a pay cut," the insider told RadarOnline.com.
"There will be no staff cuts at the TODAY Show," a rep for TODAY tells RadarOnline.com.
RELATED STORIES: