Ann Curry's Revenge! Good Morning America Is Solid #1 Over TODAY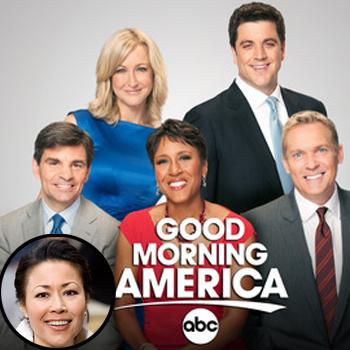 Somewhere, Ann Curry is probably smiling.
Good Morning America is the No. 1 network morning program in the U.S. - beating TODAY once again - as it begins the all-important new television season, which officially kicked off in September.
According to just-released Nielsen ratings for the month of September, NBC's TODAY, which had been the top rated morning show for 16 years in a row, is now a solid No. 2 behind ABC's GMA.
Article continues below advertisement
TODAY's gradual slide earlier this year intensified in late June when the Peacock Network ousted a teary-eyed Ann Curry as co-anchor of the program - reportedly at the urging of Matt Lauer, who has faced a firestorm of criticism since her departure.
While the viewer backlash over Curry's departure initially resulted in TODAY's ratings taking a hit, the show rebounded somewhat during the London Olympics, but in September, the race wasn't even close: GMA beat TODAY by 807,000 total viewers on a typical day. GMA averaged nearly 5.1 million viewers, while TODAY saw about 4.3 million. TODAY's viewer hasn't eroded this much since 1995, the year that it became top dog over GMA.
As RadarOnline.com has previous reported, in wake of the ratings slide, TODAY is expected to feature Curry ,55, more - as a special correspondent or "anchor-at large" - in the hopes of regaining angry viewers.
The success of Good Morning America during September is especially interesting since the show was without one of its main players - anchor Robin Roberts, who remains on medical leave after undergoing a bone marrow transplant to treat a rare blood disorder.
Article continues below advertisement
On Wednesday, Roberts posted a picture to Twitter of a visit by two of her co-hosts, Josh Elliott and Sam Champion. In a blog post later on Thursday, Ms. Roberts wrote, "I have been in the hospital 25 days now. My bone marrow transplant took place exactly two weeks ago. The only numbers that matter are my blood counts and they are… GREAT!"
As RadarOnline.com has previously reported, Roberts is responding well to her treatment, but she's not expected to return to the program until next year.