Twitter Erupts Over Matt Lauer's Hosting Of Macy's Thanksgiving Day Parade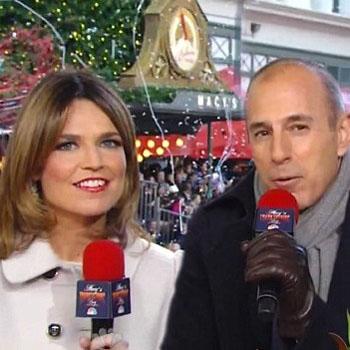 "Dear Matt Lauer, RETIRE! That was just one of the thousands of tweets reacting to Matt Lauer's hosting of Macy's Thanksgiving Day Parade, an annual special on NBC.
"Matt Lauer should get a lifetime achievement award for saying ridiculous things with deadpan, absolute sincerity. Way to go Matt," one Twitter critic wrote, according to the MailOnline.
"YOU LOOK LIKE A CROTCHETY OLD MAN," said another.
Article continues below advertisement
But it was the Today show host's mispronunciation of the iconic Gershwin song, 'S Wonderful that really opened the floodgates.
Lauer pronounced it as S-Wonderful.
"Really Matt Lauer? 'S. Wonderful' Try 'S'Wonderful,' one of the most popular Gershwin songs ever written. Heard of the Gershwins?" wrote one annoyed viewer. Tweeted another, "Matt Lauer's enunciation of 'S Wonderful makes it clear that he is totally devoid of funk."
As RadarOnline.com has been reporting, Lauer is under mounting pressure to leave the NBC morning show.
Many viewer hold him responsible for the ousting of Ann Curry as his co-host last June and ratings for the show have been pummeled in the months since.
Even some outside TV experts have been saying there is no way to salvage the show unless Lauer is replaced.
If that happens, it won't come soon enough for one Twitter follower on Thanksgiving.