Sex, Drugs & Football! The XXX-Rated NFL Salacious Scandals That Put Dan Marino To Shame!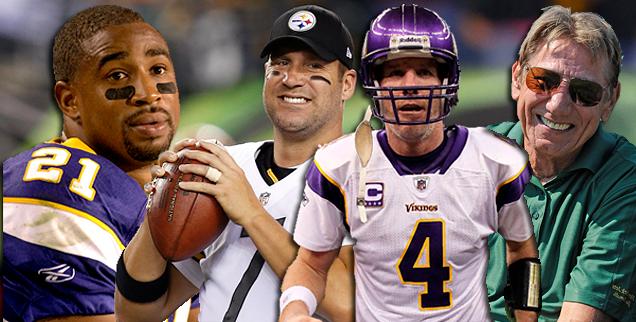 Known as one of the greatest quarterbacks in NFL history, Dan Marino's squeaky clean image was tarnished Wednesday after he made the confession that he had fathered a secret love child.
As RadarOnline.com previously reported, the bombshell revelation that the Miami Dolphins player-turned-CBS-broadcaster has a now 7-year-old daughter with production assistant Donna Savattere, was made all the more shocking as it came on his 28th wedding anniversary with wife, Claire.
Article continues below advertisement
However, the 51-year-old sports legend is just the latest in a long string of football stars whose "plays" off the field have gotten them in hot water! In appreciation of Super Bowl XLVII in New Orleans Sunday, RadarOnline.com is looking back at the salacious NFL sex scandals that manage to put Marino's indiscretions in the shade!
Brett Favre
Once the darling of the NFL, Favre had already frustrated fans with his tearful retirement from the Green Bay Packers, only to return the following season to play for the New York Jets, after which he retired yet again and then returned – again! - to play for the Minnesota Vikings in 2010. During his final season on the field, the quarterback's past came back to haunt him when news broke that he had allegedly sent naked photos of his penis and dirty text messages to Jets staffer Jenn Steger.
According to Deadspin.com, the former Super Bowl champ had reached out to the 26-year-old model - who shunned his advances and described him as a "creepy douche" - via MySpace and left her a multitude of sexually charged, raunchy voicemail messages. After an in depth investigation, Favre was found not to be in violation of the NFL's personal conduct policy, but was fined $50,000 for failing to cooperate with investigators. He somehow managed to save his marriage to long-suffering wife Deanna Tynes, and finally hung up his football helmet for good on January 17, 2011.
Article continues below advertisement
Ben Roethlisberger
Known as Big Ben by Pittsburgh Steelers fans, 6'5" Roethlisberger put his brawn to bad use in June 2008, when he allegedly sexually assaulted Andrea McNulty, 31, in his Lake Tahoe hotel room during a celebrity golf tournament. McNulty filed a lawsuit a year later seeking $440,000 damages from the quarterback, and claiming Harrah's hotel officials went to great lengths to cover up the alleged incident. According to the legal documents, McNulty obtained hospital treatment after the alleged attack -- but that was disputed by a former co-worker who claimed the sex was consensual and that McNulty, who was employed as a casino host, was hoping she had gotten pregnant with a "little Roethlisberger."
Roethlisberger's reputation was further marred in March 2010 when police in Milledgeville, Georgia, investigated another accusation of sexual assault, this time from a 20-year-old student, who claimed he had invited her into the VIP area, plied her with shots and then lured her into a bathroom where he "kind of raped" her.
The now 30-year-old Super Bowl champ was ultimately not charged with either crime but the embarrassment caused by the scandals infuriated Steelers owner Art Rooney II and made the player the subject of a sex addict skit on South Park.
Article continues below advertisement
Minnesota Vikings Love Boat
The monumental sex scandal that rocked the Minnesota Vikings in October 2005 didn't involve just one player, but half the team! Seventeen key members – including quarterback Duante Culpepper, defensive back Fred Smoot, who was also the alleged ringleader, running back Moe Williams, offensive tackle Bryant McKinnie, tackle Pat Williams and wide receiver Nate Burleson – rented out two houseboats for an X-rated party, which according to eye witnesses included countless naked women, "masturbation, oral sex, toys, women-on-women and raunchy lap dancing." After the 90-person sex bash was finally over, cleaning crews reportedly found "used condoms, K-Y jelly, Handi Wipes and wrappers for sex toys," strewn around the boats.
Vikings owner Zygi Wilf threatened to remove the hard partying players from the roster in a profanity-laced tirade, and a 77 page Code Of Conduct was given to every member of the team. Culpepper, McKinnie, Smoot and Williams were subsequently charged with indecent conduct, disorderly conduct and lewd or lascivious conduct -- and, while most of the charges were eventually dropped, Smoot and Williams pleaded guilty to a misdemeanor, were fined $1,000 and ordered to perform 48 hours of community service.
Article continues below advertisement
Lawrence Taylor
The former New York Giants linebacker's sex romp with an underage call girl was made even more embarrassing when he had to reveal in court that he only lasted "a couple minutes" during the not-so-raunchy hookup! The illegal tryst, that occurred in 2010 with 16-year-old Cristina Fierro, who had claimed to be 19, led to the troubled NFL vet being forced to reveal intimate details during his sex-assault civil trial two years later.
The court eventually rejected the teenage call girl's claims that he assaulted her but Taylor, 53, is now registered for life as a low-risk level one sex offender and was placed on six years probation after pleading guilty to third-degree statutory rape.
"Broadway Joe" Namath
Although not as sleazy as some of his sporting colleagues' actions, Namath's scandalous indiscretion was all the more humiliating as it was captured live during a nationally televised New York Jets game in December 2003. The NFL legend had been battling the booze for some time before his drinking problem became very public after he grabbed sideline reporter Suzy Kolber and slurred: "I wanna kiss you...YEAH!!!" Ironically, Namath had just finished calling himself a "quality, classy quarterback."
Article continues below advertisement
The shocked female sportscaster replied politely, "Thanks, Joe. I'll take that as a huge compliment," and was likely not at all surprised when, shortly afterwards, Namath checked himself into an outpatient rehab program for alcoholism.
Eugene Robinson
The three time Pro Ball free safety's successful career ended on a very low note when the night before he was set to take the field for the Atlanta Falcons against the Denver Broncos in the 1998 Super Bowl, he snuck out of the hotel room he was sharing with his wife and attempted to pick up a prostitute. Unfortunately for Robinson, the hooker was actually an undercover female cop pretending to charge $40 for oral sex.
The next day at Super Bowl XXXIII, and without much sleep due to the prostitution incident, Robinson gave up an 80-yard touchdown reception to Broncos receiver Rod Smith and the Falcons ended up losing the game 34-19. Not surprisingly, the following season was his last with the team.
Michael Irvin
Irvin's nickname The Playmaker is an apt description of his actions both on-and-off the field! The former Dallas Cowboys wide receiver and current NFL Network analyst has had numerous high profile brushes with the law beginning in March 1996 when he was arrested for cocaine possession on his 30th birthday while celebrating in a hotel room with two hookers. The outrageous player turned up in court wearing a full mink coat, where he was fined $10,000 and placed on a four year probation.
Almost a decade, and a number of narcotics arrests later, Irvin was accused of sexual assault while at the Seminole Hard Rock Casino in Hollywood, Florida in 2007. Charges were never filed, but a civil suit was brought against him in 2010.