Exclusive
Suzy Favor Hamilton, Olympian-Turned-Hooker: Will She Identify Her Pimp In FBI Probe?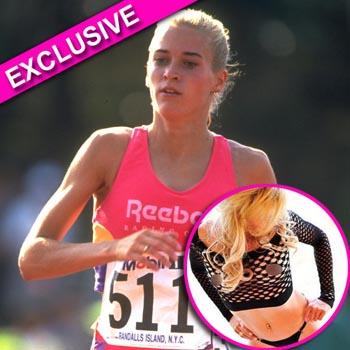 By David Perel - Executive Vice President/Managing Editor Radar
Admitting that she was leading a secret double life as a $600-an-hour prostitute was the most difficult decision former Olympian Suzy Favor Hamilton ever had to make. But now she may have an even tougher choice.
Law enforcement is aware that Hamilton's activity, and that of her employer, violated state, federal and international laws and as RadarOnline.com previously reported exclusively, she could be caught up in a major FBI investigation.
Article continues below advertisement
And that has brought her to the brink of her most difficult decision: will she identify her pimp?
Hamilton was employed under the alias Kelly Lundy by the Haley Heston Private Collection escort service, which booked her in various U.S. cities. The company also operated overseas and let its clients know that records of their "transactions" would not be turned over to law enforcement.
Any FBI investigation would be secret and eventually Hamilton could be questioned. And if questioned, the FBI will ask her what she knows about the workings of her company, and who was her pimp.
"I take full responsibility for my mistakes. I'm not the victim and I'm not going that route," she said when the website the Smoking Gun first revealed her secret life.
But does taking full responsibility mean she is willing to rollover on her pimp?
"She was making $600 an hour but there's no way she got to keep all that," said a former law enforcement official. "The employers always get a cut.
"And you can call them any name or term you want, but someone is helping to book these women and setting up their action and that person is taking a cut of the money. That's what a pimp does.
Article continues below advertisement
"There's no way Suzy Favor Hamilton was in this business without a pimp. She was part of a larger organization."
Giving up the identity of her pimp, and perhaps others in the organization, will not be an easy choice for Hamilton.
"It could be dangerous," the source said. "Common sense tells you that people who operate in this world do so under a code of secrecy. Rolling over on your employers can be a very, very dangerous move."
MORE ON:
Celebrity Justice
Hamilton has a 7-year-old daughter with her estranged husband. When the scandal broke she said: "I realize I have made highly irrational choices and I take full responsibility for them. I am not a victim here and knew what I was doing.
"I was drawn to escorting in large part because it provided many coping mechanisms for me when I was going through a very challenging time with my marriage and my life. It provided an escape from a life that I was struggling in. It was a double life.
Article continues below advertisement
"I do not expect people to understand, but the reasons for doing this made sense to me at the time and were very much related to depression."
And while she says she is committed to becoming a "good mother, wife, daughter and friend," the road back to a happy life may be a dangerous one.
"Typically in these types of investigations, law enforcement will use the person they have to get the people they don't have," the source told Radar. "They can threaten her with prison and then offer a deal if she gives them names and information they want.