Who Is Suzy Favor-Hamilton? Seven Things You Didn't Know About The Olympic Athlete Turned Hooker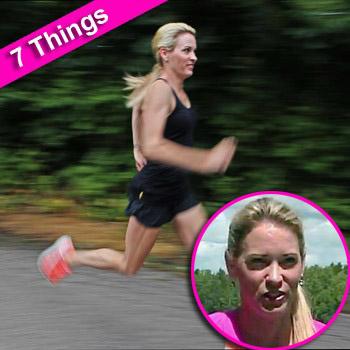 By Debbie Emery - Radar Reporter
Former three time Olympic runner Suzy Favor-Hamilton has undergone a shocking transformation from a star athlete to a high end, $600 an hour hooker following raunchy revelations that she has been moonlighting as a Las Vegas call girl.
While both the sporting world and her immediate family struggle to come to terms with the married 44-year-old mom of two's seedy secret life under the alias of Kelly Lundy, RadarOnline.com has compiled the go-to-guide to the life that went from Chariots of Fire to Pretty Woman.
Article continues below advertisement
7. Born in a small Wisconsin town in 1968, Favor's early life was a world away from the sleazy scandal plagued strip Sin City. She began running at the tender age of nine and favored the track over keg parties as a teenager, winning 11 state high school titles and being crowned as one of the 100 High School Athletes of the Century by Scholastic Sports Magazine.
6. Suzy used to be a one-man-woman after being swept off her feet in her freshman year at the University of Wisconsin-Madison by baseball pitcher Mark Hamilton, and the two were married two weeks after graduation.
5. While winning the heart of her future husband and countless medals as a collegiate athlete, the blonde bombshell struggled with an eating disorder throughout her student years and strived to be as thin as a rival runner who was severely anorexic. "I thought, 'I guess I need to look like her,'" she told the Milwaukee-Wisconsin Journal last summer.
4. Even at her peek she struggled with emotional issues from the intense pressure to win. "There were those demons in your brain telling you you're not good enough, you're not fast enough, you need to be better," revealed the middle-distance runner. "The pressure to win was great." After coming home empty-handed from both the 1992 and 1996 Olympic Games, Favor-Hamilton was accused of being a choker and not having the drive to win when it mattered.
Article continues below advertisement
3. The 2000 Olympics were dominated by Suzy's devastation over the suicide of her beloved brother, Dan Favor, who suffered from bi-polar disorder and jumped off an eight-story building in September 1999 after coming off his meds. Instead of winning a medal in his honor, she purposely crashed and burned in a heap on the track. "Coming around that (last) corner the anxiety gripped me so bad. It told my brain, 'Just fall. That's the easiest solution. Just fall, and this all will go away.' That was the only way out," she confessed.
2. While certainly the most shocking revelation, Favor's "sex for sale" scandal isn't the first time she has hit the headlines for the wrong reasons. After the Sydney games, she starred in a controversial a Nike commercial that portrayed her living in a big house near a forest on a dark, creepy night when a chainsaw-wielding masked killer appears and attempts to kill her, reminiscent of classic horror films. She manages to outrun him thanks to her Nike sneakers, and the ad closes with the message, "Why sport? You'll live longer."
Article continues below advertisement
The ad sparked outrage from protestors who argued that it made light of violence against women, while others claimed it was just too scary to watch, especially for children.
1. Suzy has fought her own battle with depression, which she blames for motivating her to begin working at the premier Las Vegas escort service Haley Heston last December, and takes the the antidepressant Zoloft in an attempt to mask the dark thoughts that haunt her. However, rather than numbing her emotions like the medication, she described being a hooker as "exciting" and a diversion away from the routine that had become her everyday life.