Prostitution Is NOT Kid-Friendly! Olympic Athlete Turned $600 An Hour Hooker Dropped From Disney Half Marathon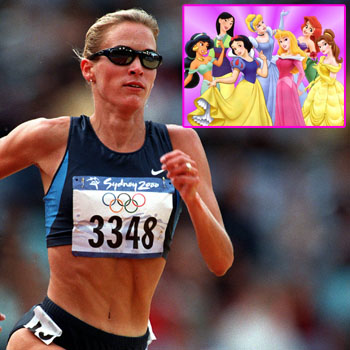 Article continues below advertisement
The married mother of a seven-year-old daughter was scheduled to speak at an August 2013 expo during the Disneyland Half Marathon weekend, but since her illicit second career was revealed and raunchy photos of her skimpy professional outfits hit the Internet, the House of Mouse has deemed, not surprisingly, that she is not a good role model for young children.
Bob Hitchcock, a spokesman for runDisney, which organizes the corporation's racing events, said in a news release that Favor-Hamilton will no longer be scheduled for future Disney events.
Before her alias as sex worker Kelly Lundy was unveiled, Favor-Hamilton had expressed her excitement at working with Walt's world famous cartoon empire. "So proud to be working with Disney this year :) Looking forward to the Disneyland Half-Marathon & Expo this weekend!!!" she wrote on her official Facebook page before last summer's event in August.
Not surprisingly, Suzy's most recent social media messages have taken on a far more somber and serious tone the past couple of days as she attempts to explain away her seedy double life and apologize for her sexcapades.
Article continues below advertisement
"I realize I have made highly irrational choices and I take full responsibility for them. I am not a victim here and knew what I was doing," she tweeted Thursday.
"I was drawn to escorting in large part because it provided many coping mechanisms for me when I was going through a very challenging time with my marriage and my life. It provided an escape from a life that I was struggling in. It was a double life," explained the runner, who married her husband, college sweetheart Mark Hamilton, two weeks after graduation.
"I do not expect people to understand, but the reasons for doing this made sense to me at the time and were very much related to depression."
She added: "I cannot emphasize enough how sorry I am to anyone I have hurt as a result of my actions and greatly appreciate the support from family and those closest to me. I fully intend to make amends and get back to being a good mother, wife, daughter, and friend."