Suzy Favor Hamilton: See The Photos Of Olympian-Turned-Hooker's Secret Double Life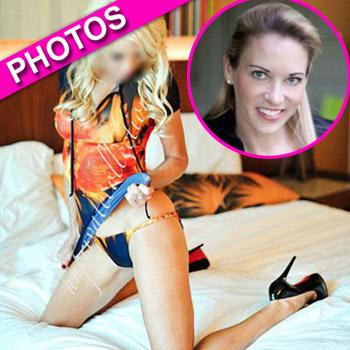 It's almost impossible to believe -- the shocking news that three-time Olympic star Suzy Favor Hamilton led a secret life as a high-priced call girl in Las Vegas, but the proof is in the pictures, as you'll see on RadarOnline.com.
As we previously reported, Favor Hamilton, 44, worked for Haley Heston Private Collection, a premiere Sin City escort service, for the past year charging $600 an hour for sex romps. Now in a series of racy photos, we see the former track star in provocative poses used to advertise her salacious services.
Article continues below advertisement
Photos on the Haley Heston website showed Favor Hamilton as "Kelly" posing in sexy lingerie and heels inside various Las Vegas hotel rooms, often with her back to the camera to shield her face.
In her profile -- which has since been deleted -- she states her rates, from $600 for one hour to $6,000 for a 24-hour period. Additionally, clients are charged an extra $300 for one particular sex act that was deemed illegal in 14 U.S. States right up until 2003.
"I met Haley with the idea of fulfilling a fantasy and only doing it for the short term," she wrote on her profile.
"Well, after my first date, I was hooked, and have been doing my best to visit Las Vegas as often as my schedule allows (I run my own business in my real world life).
"Discretion is EXTREMELY important to me, hence you will only see blurred photos of my face on this site. I know this is not ideal, but I hope you understand that it is essential for me."
Article continues below advertisement
In the profile, Favor-Hamilton described herself as a "workout fanatic" who enjoyed skiing, biking, hiking, running marathons and traveling.
She also shared that she is bisexual and happy to provide services for couples: "Working with couples requires special skill and I pride myself in my ability to make a woman feel comfortable and not threatened in any way. A date with me will NEVER feel rushed."
Surprisingly, Favor Hamilton would often blab about her real identity to her johns -- often boasting about her days as an Olympic long-distance runner who competed in the 1992, 1996 and 2000 Olympics, where she famously fell on purpose during the Sydney Olympics 1500m final when she realized she could not win.
Her secret life as a hooker was exposed last month, after she was confronted about her double life by a reporter in the lobby of a Vegas hotel, and she confessed to her work as "Kelly."
Article continues below advertisement
"I take full responsibility for my mistakes. I'm not the victim and I'm not going that route," she told the Smoking Gun, who first broke the bombshell story.
"I'm owning up to what I did. I would not blame anybody except myself." She added, "Everybody in this world makes mistakes. I made a huge mistake. Huge."
Favor-Hamilton, who's married to her childhood sweetheart Mark, said her 44-year-old lawyer husband back in Madison, Wisconsin knew of her escort work but, "He tried, he tried to get me to stop. He wasn't supportive of this at all."
Since the story broke, Favor Hamilton -- who has a 7-year-old daughter -- has defended her actions on her Twitter page.
She wrote: "I realize I have made highly irrational choices and I take full responsibility for them. I am not a victim here and knew what I was doing.
"I was drawn to escorting in large part because it provided many coping mechanisms for me when I was going through a very challenging time with my marriage and my life. It provided an escape from a life that I was struggling in. It was a double life.
Article continues below advertisement
"I do not expect people to understand, but the reasons for doing this made sense to me at the time and were very much related to depression."
She added: "I cannot emphasize enough how sorry I am to anyone I have hurt as a result of my actions and greatly appreciate the support from family and those closest to me. I fully intend to make amends and get back to being a good mother, wife, daughter, and friend."