Exclusive
LeAnn Rimes' Pal: Everyone Who Plotted Against Her Should Crawl & Ask For Forgiveness!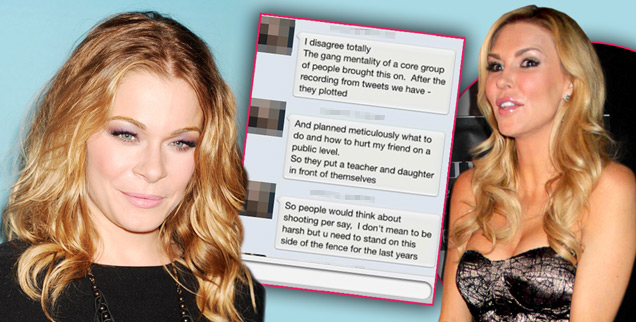 Crawl on your knees and ask for forgiveness!
That's the message from LeAnn Rimes' record producer, friend and accomplished songwriter Darrell Brown, who says the singer is the victim of people who "plotted and planned" to harm her and that's why she's still suing a teacher who has six children.
The plotters put teacher Kim Smiley and her daughter Lexi in front of their scheme, Brown claims in a series of forceful statements that also attack Brandi Glanville and hint that LeAnn is covering up serious misdeeds for the woman whose husband she married.
Article continues below advertisement
Brown is the producer and arranger of Rimes' new album Spitfire and considers himself a close friend, based on his public statements. He has been speaking out about Rimes' lawsuit against Kim and Lexi for allegedly recording their phone conversation without the singer's permission.
"The gang mentality of a core group of people brought this on," he tweeted to one Smiley supporter. (Note: some of the language and grammar of his tweets have been cleaned up by RadarOnline.com for clarity; the meaning remains unchanged.)
Brown clearly considers himself part of LeAnn's camp for the lawsuit, using the word "we" at one point when discussing it.
Sources have told RadarOnline.com that some members of Team LeAnn believe the recorded phone call, which started with the singer calling Smiley, was a pre-planned plot to make LeAnn look foolish by eventually posting snippets on the Web. Brown seems to agree with that theory.
"After the recording from tweets we have – they plotted and planned meticulously what to do and how to hurt my friend on a public level," he wrote about the unnamed group of people out to get LeAnn. "So they put a teacher and daughter in front of themselves …I don't mean to be harsh but u need to stand on this side of the fence for the last years."
Article continues below advertisement
And these people who have plotted against LeAnn need to crawl for forgiveness, says the man whose impressive credentials include writing songs for Bon Jovi, Keith Urban, Faith Hill and a host of other stars.
PHOTO: LeAnn Rimes & Brandi Glanville — BFFs?
"They as a group have a lot of work to do by crawling on their knees to (omitted) and L (LeAnn) and asking for their forgiveness," he tweeted.
Brown then expressed happiness that the unnamed group allegedly broke the law.
"I was kind of happy that they crossed the line of being just dumb mean girls and then broke the civil law," Brown wrote. "I knew they would they kept Dancing on the borderline of it all the time saying come as (sic) get me."
Brandi is not spared Brown's wrath either.
"I know more about everyones side of the drama here then everyone's discusson twitter," Brown wrote. "That includes Brandi dean Le (LeAnn)Eddie (Cibrian)…. and kids.
"The stuff Brandi has pulled and that Eddie and Le have protected her on for the sake of kids. Woof. Huge huge things."
Woof, indeed!
Rimes' lawsuit against Smiley and her daughter has been delayed after the teacher, who has adopted four special needs children, requested and was granted an extension.