Brandi Glanville Fights Back: Eddie's The Cheater – Not Me!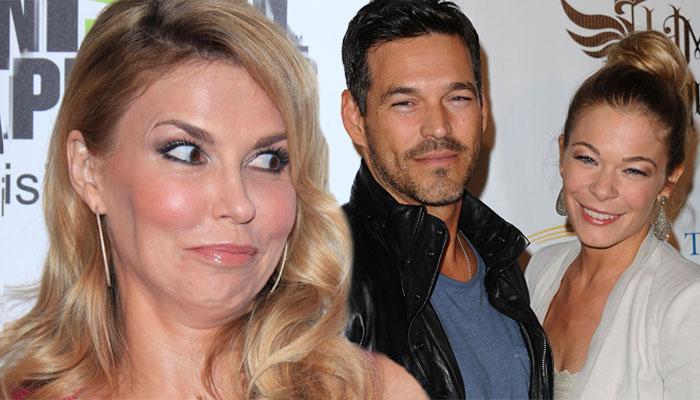 Brandi Glanville wants to make one thing clear – her former husband, Eddie Cibrian, was the cheater during their marriage, not her.
In a series of Tweets posted Monday, The Real Housewives of Beverly Hills star forcefully responded to apparent reports that she also fooled around during her nine-year marriage to the Third Watch hunk.
Brandi – who recently has ramped up her brutal attacks against her ex's new wife, LeAnn Rimes - writes: "4yrs after my split & right B4 my book comes out "sources" say I cheated on EC while married with a bunch of hot guys that I dont even know!:
Article continues below advertisement
She then followed-up her original tweet to clarify she did date while she was married, but with one important caveat.
"Timing is everything!I did date while I was married but my husband had already moved in with LR and divorce takes time. This is so obvious"
Then, responding to a slew of followers who tweeted their support to her, she wrote, "U are all right! Who cares, timing is everything and its clear. I was still legally married for yrs and dating through my divorce."
As RadarOnline.com previously reported, Brandi is set to release an explosive tell-all, Drinking & Tweeting and other Brandi Blunders next week. In the book, she gives a blistering account of the demise of her marriage to Cibrian, who was cheating on her with the country singer, his co-star in the 2009 made-for-television Lifetime movie, Northern Lights.
In the book, Glanville candidly writes about starting to date in the months after the couple separated and Cibrian moved in with Rimes.
Glanville, 40, and Cibrian divorced in 2010. Only a year after his split with Glanville, Cibrian, 39, and Rimes, 30, married in 2011.
Drinking & Tweeting and other Brandi Blunders will be released on Tuesday, February 12.