The Moment Brandi Glanville Realized Eddie Was Cheating With LeAnn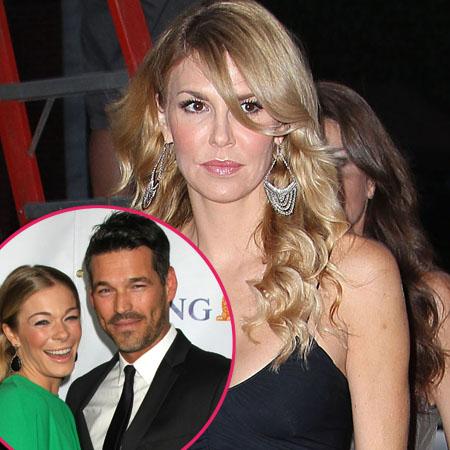 In her bombshell new memoir, Drinking & Tweeting and other Brandi Blunders, Brandi Glanville reveals the heartbreaking moment she knew her husband, actor Eddie Cibrian, was having an affair with country singer LeAnn Rimes.
In 2009, Glanville had traveled to Calgary, where Cibrian was filming a made-for-television movie for Lifetime called Northern Lights; Rimes was his co-star.
The future The Real Housewives of Beverly Hills star says she insisted upon meeting the Blue singer, so Eddie set up a double date at a sushi restaurant. Rimes' then husband, Dean Sheremet, was also there.
Article continues below advertisement
Writes Glanville, "And this woman, whom I had just met, spent more time flirting with my husband than acknowledging her own. And Dean, bless his heart, ate his sushi, laughed at all the right moments, and pretended that he didn't see exactly what was in front of him. As the evening progressed, every time LeAnn made some sort of inappropriate advance toward my husband – a whisper, a giggle, or a reach across the ever-shrinking table – Eddie squeezed my hand a little tighter. And as if on cue, Eddie would lean over the table, every so often, to offer me a nervous, overly tongue-y kiss to gauge my current state of mind."
Glanville says she tried to push it out of her mind, rationalizing that LeAnn was "just a child star who had married young and was unhappy with her own marriage."
As the night progressed, Glanville says she realized her husband and Rimes were sleeping together.
She writes: "When later that same night, LeAnn awkwardly pulled my husband (not hers!) onstage for an awful karaoke rendition of Sonny and Cher's "I Got You Babe," I just about lost it… Was she serious? I felt like I was in the twilight zone."
Article continues below advertisement
She continues, "Being the devoted housewife and trusting partner, I wasn't going to say anything to them, but I knew that kind of tenacity didn't come from nowhere. I looked at Eddie's smiling face on that stupid, low-rent stage and leaned over to Dean and said, 'You know they're f**king, right?'"
She says Dean didn't respond - which "said just about everything I needed to know, he knew it too, but like me, didn't have any evidence besides that gut feeling, and he chose to ignore it for now."
Soon came the "final f**king straw," in her words.
She writes, "LeAnn had 'accidentally' smeared some cake frosting on her top ( she was still a bigger girl and completely flat-chested at the time) and asked my husband, not realizing that I was standing behind the both of them, if he'd wanted to lick it off her. This woman asked my husband if he wanted to eat the frosting mess she'd dropped on her nonexistent chest? Are you f**king kidding me? He hadn't realized I was there either, and he laughed with hungry eyes at the suggestion."
Article continues below advertisement
Brandi says she stepped between the two of them and said, "'What the f**k do you two have going on? Do you two have something you'd like to tell me?' LeAnn laughed through her oversized dentures before purring. 'Oh, honey, you're just being silly.'"
Brandi says she went back to the table, grabbed her purse, and "got the hell out of there." She went back to L.A. and says Eddie got in touch with her the next day.
"He convinced me I was just being paranoid," she writes. "I even asked him about the frosting incident, and he told me, 'You see and hear things that don't actually happen.' I wanted to believe him so desperately that I let him convince me that I just made it up in my head."
Glanville stayed with Cibrian, despite her doubts. Then, a weekly entertainment magazine posted surveillance footage of Cibrian and Rimes sharing a romantic dinner together at a restaurant, and even kissing at the table. At that point, her marriage imploded.
Glanville, 40, and Cibrian, 39, divorced in 2010 after nine years of marriage. Only a year after his split with Glanville, Cibrian and Rimes, 30, married in 2011.
Drinking & Tweeting and other Brandi Blunders will be released on Tuesday, February 12.