Eddie Cibrian 'Hit The Roof' After Learning Brandi Glanville Used His Credit Card To Pay For Outrageous Revenge Surgery!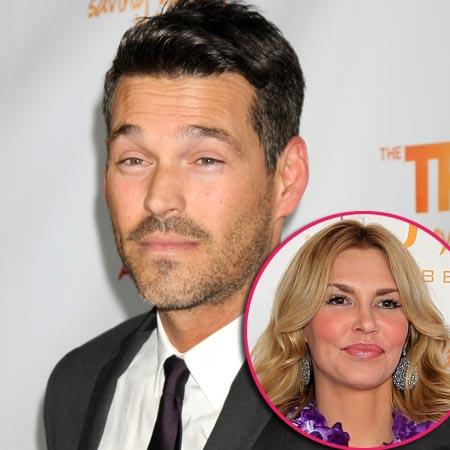 WARNING: Story contains explicit content!
Brandi Glanville spills all, in her deliciously scandalous new tell-all, about how her cheating ex-hubby, Eddie Cibrian, hit the roof after discovering that a $12,000 charge on his credit card was for the Real Housewife's vaginal rejuvenation surgery, and RadarOnline.com has all the outrageous details!
"Well, it didn't take long for Eddie to call about the bill," Glanville writes. "A week after the surgery, he was on the phone screaming, 'What the f**k cost you $12,000? Who the f**k is Dr. Matlock? Did you get a nose job?'"
Article continues below advertisement
Brandi says she lied to him, claiming that yes, she had undergone surgery for a nose job, and then immediately hung up, but Eddie was on the ringer again about five minutes later!
"This time I didn't answer," she says. "It rang again -- and then again. 'Ahh,' I thought. Eddie must have discovered Dr. Matlock on Google. I decided it was best to avoid his calls for the next few days while he cooled off."
Brandi writes that Eddie, who was already seriously involved with his now-wife, LeAnn Rimes, whom he cheated on Glanville with, remained "absolutely livid" because of the charge -- "partly because of the price tag, and partly because of his overwhelming jealousy that some other man would reap the benefits of his ex wife's new p***y."
Brandi candidly admits that "in hindsight, I know I shouldn't have put it on Eddie's card. It was vengeful, and it came back to bite me, because this was something I hoped to keep private."
Without naming names, Brandi says that Eddie's then-girlfriend - presumably Rimes - "was beyond ecstatic to be in possession of this crazy personal information, and it didn't take long for her minions to begin shouting my private business from the social media rooftops."
PHOTO: LeAnn Rimes & Brandi Glanville — BFFs?
Keep checking back with RadarOnline.com for plenty of other tidbits from Drinking and Tweeting: And Other Brandi Blunders, which hits stores February 12.