Take That Eddie! Brandi Glanville Wreaked Ultimate Revenge On Cheating Cibrian, You Won't Believe How!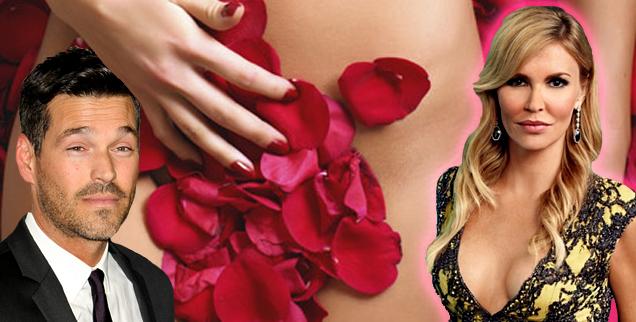 WARNING: Content in post is explicit
In Brandi Glanville's own words, "Ultimately, my husband got a new vagina … and so did I."
In her scathing new tell-all, Drinking and Tweeting: And Other Brandi Blunders, the Real Housewives of Beverly Hills star opens up, in her own, unique and hilarious fashion, about how she got revenge on her cheating then-hubby, Eddie Cibrian, by undergoing expensive vaginal rejuvenation surgery - then paying for it on Cibrian's credit card!
Article continues below advertisement
PHOTO: LeAnn Rimes & Brandi Glanville — BFFs?
"Be honest. If you had had the chance to have your seventeen-and-a-half year old pu**y again, wouldn't you jump at the opportunity?" Glanville writes. "That was my perfect pu**y age. Virgin? Nope, too painful. And, let's be honest, a little awkward. Twenty-one? No thanks. I had already spent too many years in Europe by that point."
However, Brandi explains there was one major stumbling block when it came to her quest to obtain the perfect lady parts — money, "This pretty intense surgery had an even more intense price tag: $12,000."
She goes on to describe the procedure as, "basically, the equivalent of a tummy tuck for your kitty cat. There was usually the exterior, adding on the labia-lift, but that would likely cost extra and ewww. As for me, I've always subscribed to the school of thought that men don't really care what it looks like -- pink, gray, hair, no hair, landing strip, to them it's all the same."
Glanville writes that she was spurred to seek the procedure after criticism from Cibrian, who told her that her post childbirth "lady parts were not what they used to be."
Article continues below advertisement
"I was rarely insecure, but I would ask Eddie from time to time if my vagina was the same after childbirth, praying it was still tight for him," she writes. "He always said, 'Yes,' except once -- and that was my first step on the road to Dr. Matlock."
Glanville says that at that point, her marriage to the actor was essentially over, as they were separated, and he'd been spotted out on the town with another (unnamed) woman — presumably LeAnn Rimes who Cibrian subsequently married.
Brandi explains that after yet another huge fight with her cheating spouse - and the impromptu, angry sex that followed - she vowed it "would be the last time Eddie ever touched" her, and that the only way she could be certain to keep her promise would be to reconstruct a new-and-improved vagina that would be off-limits to The Playboy Club star.
Glanville writes that "later that night, over a glass of sauvignon blanc, it occurred to me: a brand-new vagina would be an Eddie-free vagina.
Article continues below advertisement
"It would be something completely unknown to him and offer me the fresh start I so desperately deserved. It was time for my pu**y to be reborn," she wrote. "I decided that since Eddie ruined my vagina for me, he could pay for a new one."
Glanville shares that she called up to pay for the $12,000 procedure using "Eddie's credit card number -- the same one he canceled for a brief period after reading a negative quote about him I gave to the press."
She says that following the procedure - and enduring pain she described as "worse than childbirth" and "an absolute hell" while recovering - she threw Eddie out of the house.
As for the surgery, Glanville writes that it gave her "a fresh outlook on my future - a future that was beginning to look brighter and tighter.
"I have to say that so far the results are stupendous and I'm happy with the sensation myself," she says.
So how did Eddie take the news when he discovered he had unwittingly shelled out a cool $12,000 for his ex's new vagina?
You'll have to check back with RadarOnline.com to find that out, and enjoy plenty of other tidbits from Drinking and Tweeting: And Other Brandi Blunders, which hits stores February 12.