Sex, Lies & Salacious Seedy Secrets! Brandi Glanville Spills ALL On Eddie Cibrian & LeAnn Rimes Affair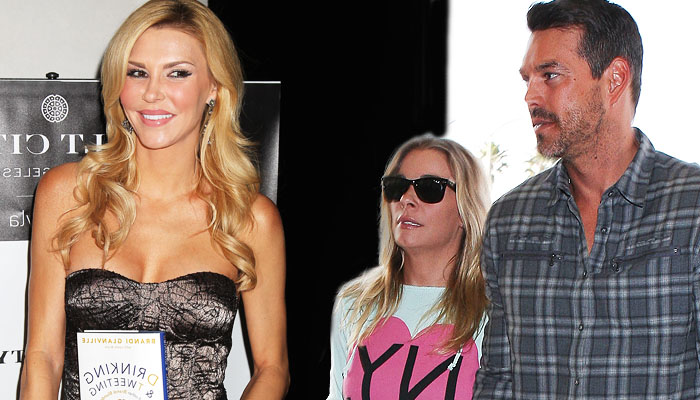 Article continues below advertisement
In one shocking excerpt, Glanville recounts how she was torn apart and utterly devastated upon learning of Eddie's affair with his co-star, however, before she got the chance to angrily confront her husband of eight years, the love rat actor passionately seduced her!
"I'm not entirely sure how I ended up on the floor of my closet sobbing," Glanville writes. "A teary-eyed Eddie found me lying there minutes later, and without saying so much as a word, he started kissing me all over...he pulled off my workout pants and we started having sex right there.
"He swore up and down my body that it wasn't true...that it was completely innocent. In that moment, it was easier to believe him, because I just couldn't stand the thought of being without him."
Despite Eddie's claims to the contrary, Brandi says she knew something was going on between the father of her two children and Rimes, the first moment she saw the country singer and Cibrian together on the set of the TV movie Northern Light in 2008.
Article continues below advertisement
"LeAnn had 'accidentally' smeared some cake frosting on her top (she was still a bigger girl and completely flat-chested at the time) and asked my husband, not realizing that I was standing behind the both of them, if he wanted lick it off her," Glanville claims.
"This woman asked my husband if he wanted to eat the frosting mess she'd dropped on her nonexistent chest? ... He hadn't realized I was there, either, and he laughed with hungry eyes at the suggestion."
Brandi says that Eddie swore blind to her that "he would never marry LeAnn, but that was just one of the countless lies he told me."
She signs off: "I would like to thank my ex-husband, Edward Cibrian, for giving me all the material I could ever need to write this book and for helping me discover the strong independent woman inside of me."
Ouch!
Brandi Glanville's memoir, Drinking & Tweeting is available at bookstores from February 12 — in the meantime keep checking back with RadarOnline for more sneak peeks!