What's Behind LeAnn's Emotional Outburst? Tearful Rimes Breaks Down & Is Consoled By Friend Outside Restaurant!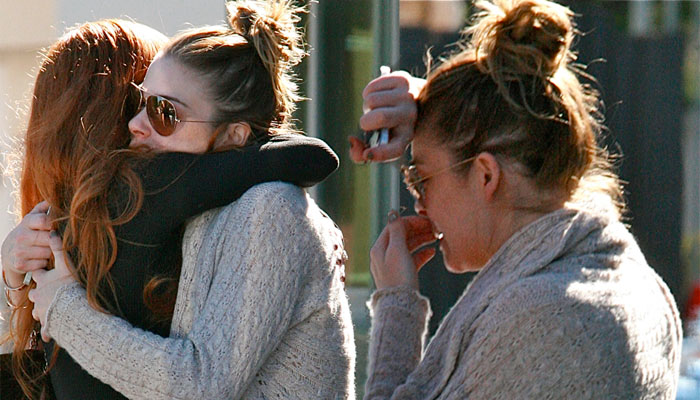 What's wrong LeAnn?
The tearful country star was spotted looking inconsolable as a friend hugged and tried to comfort her in Los Angeles Monday, and RadarOnline.com has the photos and details.
The 30-year-old singer was leaving Hugo's restaurant in Valley Village when she was spotted by an eyewitness, apparently "sobbing" and was caught on camera by a waiting photographer, being comforted by her close pal Lizzie.
Article continues below advertisement
Then again, LeAnn's blues might just be down to the day of the week!
Not so, says her rep, who shot down all of the above scenarios and offered a very simple explanation, telling RadarOnline.com that LeAnn was sneezing in the photos where she appeared to be emotionally distraught.
The emotional outburst follows hot on the heels of last week's fiery interview that aired on Jimmy Kimmel Live where Rimes confessed that she "hates Mondays."
Article continues below advertisement
As RadarOnline.com previously reported, LeAnn admitted to Kimmel that she hates Mondays because she has to check in with her publicist for updates regarding her bitter feud with Glanville – who was previously married to Cibrian, before he cheated on her with Rimes.
The war-of-words between LeAnn and Brandi has continued to escalate following the Kimmel appearance during which Rimes claimed that despite her best attempts to distance herself from Brandi, "There comes a time when you're just like, 'Screw you!'"