Brandi Glanville Had 'Hot Sex' With Eddie Cibrian First Night They Met, Says 'I Used To Joke He Raped Me'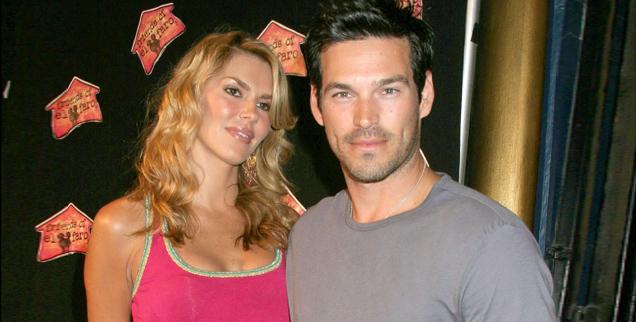 Brandi Glanville says it was love – or perhaps lust – at first sight when she met handsome actor Eddie Cibrian at a nightclub in West Hollywood, California in the mid-90s, and in her bombshell new memoir, Drinking & Tweeting and other Brandi Blunders, she reveals they slept together the first night, calling their tryst "f**king hot', and that, "I used to joke he raped me."
Prior to marrying Cibrian, the future Real Housewives of Beverly Hills star, now 40, was a busy model living the jet set life overseas.
Article continues below advertisement
She writes in her memoir: "Six years after I moved to Europe, I came back to Los Angeles to shoot a Coors Light commercial and ended up in an obnoxious nightclub called Grandville on Santa Monica Boulevard in West Hollywood. Across the bar, I spotted an insanely attractive Cuban man who just couldn't keep his eyes off me, and I couldn't keep my eyes off him either. It was love at first sight – or perhaps, lust. Yes, we slept together that first night. I would never endorse sleeping with someone you just met, because half of the fun is the challenge. But, man, was it f**king hot! I used to joke that he 'raped' me. Rape jokes are never funny, except when they are. I was saying, 'No,no,no,' the entire time, but we all know that despite the adage, sometimes no does mean yes."
The stunning Brandi writes that "not long after, we were in a fully committed relationship," although she would later learn he repeatedly cheated on her – often with cocktail waitresses.
Cibrian, now 39, asked her to stay in Los Angeles, and she agreed. She writes, "he wanted me by his side at all times, and I was more than happy to oblige."
The couple moved in together and five years later - in 2001 - they married at the Ritz Carlton in Laguna Niguel, California, and she gave up modeling full-time to have their two children, Jake and Mason.
The couple divorced in 2010 after Glanville – who says she still loves Eddie - learned he was having a sordid affair with singer LeAnn Rimes, his co-star on the 2009 made-for-TV Lifetime movie, Northern Lights. Rimes was also married at the time. Only a year after his split with Glanville, Cibrian and Rimes married in 2011.
Keep checking back with RadarOnline.com for plenty of other tidbits from Drinking and Tweeting and other Brandi Blunders, which hits stores on Wednesday, February 13.