Exclusive
Eddie Cibrian's Ex-Mistress Sets Sights On Fame & Fortune, Recording Album & Hopes To Match Britney Spears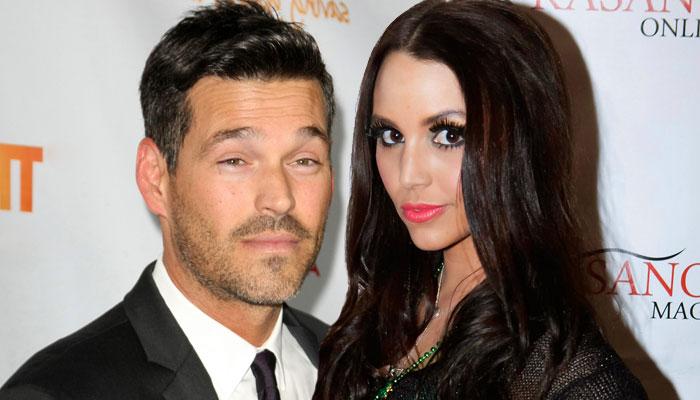 Scheana Marie, the reality TV bombshell who embarked on a steamy affair with Eddie Cibrian while he was married to Brandi Glanville, has revealed she was a little apprehensive in agreeing to appear in Bravo's The Real Housewives of Beverly Hills spinoff, Vanderpump Rules, but feels it can ultimately only help her acting/singing career.
In an exclusive interview with RadarOnline.com, the confident 27-year-old waitress, who has already experienced the tabloid glare following her fling with Cibrian, says she's happy to have cameras following her as she records in the studio and tries to cut it on a TV show set.
Article continues below advertisement
Scheana believes that Vanderpump Rules -- set in Lisa Vanderpump's SUR restaurant in West Hollywood -- provides her with the perfect base from which to launch her showbiz career because it's more than just a reality TV show.
"I was a little bit apprehensive at first. I didn't know if I wanted to do reality TV while trying to be an actress," Scheana reveals.
"But this type of show was the most perfect thing for me at the time, because it's not just a reality show, it's a career-based driven reality show.
"You're going to see me in the recording studio and see me on the set of a TV show. Vanderpump Rules is not just a typical reality show where we all try to be famous. We're trying to make our way to the top, and the cameras are there to capture that.
"I don't really think it's looked upon as negative as it was before. With me, who already was an established network TV actress, I think the camera is just capturing me continuing my work."
Article continues below advertisement
Viewers of last Monday's drama-packed premiere caught a glimpse of Scheana recording her single. However, in the short clip Scheana was heard moaning and groaning like a phone-sex operator!
"That's the breakdown of the song!" she interrupts giggling.
Scheana's good looks have often led her to be compared to a young Britney Spears, which she touched on in the season opener.
And, she hopes to one day replicate Britney's pop star success. "She's my number one role model," Scheana says.
"I've always hoped to be at that level. I've always loved that type of music and her dancing. That is what I'm trying to do now."
And does Scheana have a career goal? Where does she see herself in 5 years time?
"The thing with me is my career is very versatile. I would love to host an entertainment news show like Giuliana Rancic, or act on a show like 90210, where I could even continue to pursue my music," she tells RadarOnline.
"But I'd be happy to do any of the above," she adds.
Vanderpump Rules airs Monday nights on Bravo at 10/9c.
Cibrian's attorney Larry Stein said in a statement: "Scheana Marie Jancan is once again rehashing and embellishing stories trying to extend her 15 minutes of fame. Ms. Jancan previously publicly commented on the falsity of an article published years ago reporting on an alleged affair with Eddie Cibrian while he was in a relationship with LeAnn Rimes. She even signed a statement under penalty of perjury. It appears she is now backtracking on her own statements and is re-writing history. This is an obvious attempt to generate publicity for herself. Should she persist, we will take legal action."