Only In Hollywood! Brandi Glanville Attends 'Surreal' Blended Family Therapy With Eddie Cibrian & LeAnn Rimes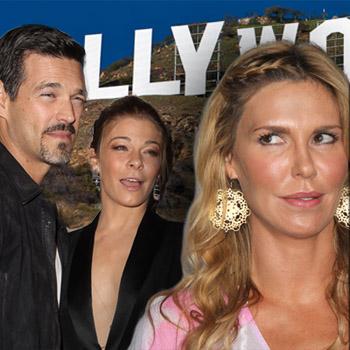 It sounds sooo L.A.!
About a year after Brandi Glanville and Eddie Cibrian separated in wake of his scandalous affair with country singer LeAnn Rimes, the future The Real Housewives of Beverly Hills star decided the three of them needed put aside their differences and coexist for the sake of the former couple's two young sons. With that in mind, Glanville pitched her ex on something called 'blended family therapy.'
Article continues below advertisement
In her bombshell new book, Drinking & Tweeting and other Brandi Blunders, Glanville – who recently has ramped up her blistering attacks on the Blue singer - writes, "For months, the three of us were jumping down each other's throats and triangulating the children. Mason's nightly phone calls to Dad became less like conversations and more like interrogations. So, therapy seemed the only reasonable – albeit ridiculous – solution to the problem.
"'How about therapy?' I finally asked Eddie," she writes.
"He took a minute to chew on it over before responding, 'Let me talk to LeAnn.'"
Glanville writes that "a few days later, he sent me an e-mail saying that both he and LeAnn would be open to seeing a family therapist, if they chose the doctor.
"'Ugh,' I thought. Of course it had to be on their terms. I couldn't care less which doctor we went to, but I had to make a little fuss about it before I eventually conceded."
Article continues below advertisement
She also reveals that Eddie and LeAnn insisted she sign a confidentially agreement before they would attend therapy with her.
"It took all my strength not to respond, 'Right, because you both are soooo f**king famous that every newspaper in the world would be clawing for the story of what Eddie and LeAnn revealed during co-parenting therapy.' Are you f**king kidding me? It was laughable. I decided that at the end of the day, this was about being better people to one another so we could be better parents, so I agreed to sign the NDA. " (Non-disclosure agreement)
Glanville says it took a few weeks to arrange for the session, and she arrived a few minutes before the appointed time. She sarcastically adds, "The lovebirds hadn't yet decided to grace the office with their presence."
In a deliberate move, the stunning former model dressed down for the appointment and came directly from her Pilates class in "head-to-toe workout gear and a pair of flip flops." She says she was taken aback when Eddie arrived with his fiancée LeAnn who "wobbled in on sky-high heels and with a set of full eyelashes."
Article continues below advertisement
Although she can't provide specific of the session, Glanville does write, "Watching my ex-husband standing in front of me, comforting another woman and holding her hand, was probably one of the most surreal moments of my life. It was a strange sensation, because while it was extremely odd, I didn't feel jealous. I was finally numb to their entire existence. I simply didn't care. Since I signed away my right to speak, I can't reveal what was discussed when we finally stepped into the therapist's office, but I can share that it was an incredibly gratifying and vindicating experience…for me."
Glanville, 40, and Cibrian divorced in 2010 after nine years of marriage. Only a year after his split with Glanville, Cibrian, 39, and Rimes, 30, married in 2011.
Drinking & Tweeting and other Brandi Blunders will be released on Tuesday, February 12.