Exclusive
Is Taylor Never Ever Getting Back Together With Harry? Styles Snubbed 'Desperate' Swift In London!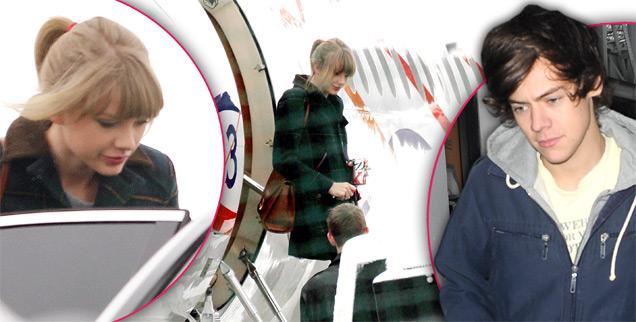 Harry Styles snubbed his one-time girlfriend, Taylor Swift, during her recent brief visit to London, RadarOnline.com is exclusively reporting.
The One Direction heartthrob declined the 23-year-old country singer's offer to meet up in England's capital, after she flew in, primarily for a photo shoot, but with the added hope of wooing back the Brit boybander.
Both Swift and Styles are expected to appear at the NRJ Music Awards in Cannes, France this weekend, where Taylor is hoping to convince the 18-year-old that they should give their relationship another go.
Article continues below advertisement
"Taylor was desperate to meet up with Harry in London, but he totally ignored her," a source tells Radar. "He told her he had too much going on, even though she purposely arranged to stay at a hotel that wasn't too far away from his home.
"Harry found Taylor a little too full-on and scary, and he was put off by how serious she was about him after such a short period of time. Then she had this crazy meltdown, accusing him of cheating, when he didn't. It freaked him out to say the least and he's kind of thinking she's more drama than she's worth.
"Harry's just a young guy looking for a bit of fun right now and is having the time of his life with gorgeous girls throwing themselves at his feet. He really isn't looking to settle down with the love of his life, but suspects that Taylor is.
"They're going to run into each other in Cannes though," the source continues. "So Taylor will get a second chance to try and win Harry back. And he better be on his game as by all accounts, Taylor can be pretty charming and convincing when she's face to face with her intended target."
Article continues below advertisement
As RadarOnline.com previously reported, Taylor demanded a showdown with Harry after she believed he cheated on her.
"Taylor has serious trust issues, something that is being severely tested dating Harry," a source previously told Radar. "Harry courts a lot of attention. He's a big flirt and loves the ladies. Taylor doesn't like that and finds it very difficult to trust him.
"She thought he was cheating on her when they were apart over the holidays so she ended it, telling him she couldn't be in a relationship with someone like that."