Exclusive
Harry Styles Dumped Taylor Swift Because She's 'Asexual & Wouldn't Put Out,' Says Insider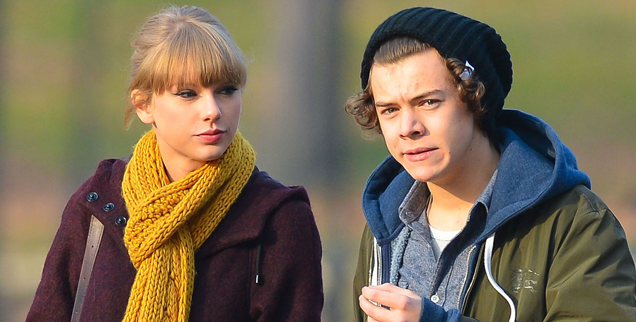 Harry Styles dumped Taylor Swift after growing tired of her "asexual" ways, RadarOnline.com exclusively reports.
The 18-year-old One Direction heartthrob, who has earned a reputation as a ladies' man across the pond, got bored of Taylor, 23, after she hardly ever put out.
"Taylor is so concerned that the public will think she's a wh*re because she dates around, that she doesn't put out," a pal close to the We Are Never Ever Getting Back Together singer told RadarOnline.com.
Article continues below advertisement
"What she doesn't get is that the guys keep dumping her because she's being a prude."
Another source says the fact that she constantly talked about antiques was another turn-off for the young singer!
"Harry found Taylor a little sexually uninterested," a source close to the star revealed.
"While it was clear she obviously had a thing for Harry, Taylor didn't want to put out as often as he would've liked. Harry is a young boy, with ladies throwing themselves at him and has had a string of relationships with older women.
"It's no secret he's sexually active and is enjoying his fame at the moment. But Taylor just wasn't up for it as much as he is. They were sexually incompatible."
Taylor's pal tells RadarOnline.com that her public reputation is of utmost importance to her and she doesn't understand how she's being perceived.
"Having a clean and wholesome reputation is super important to Taylor," the source says.
"She puts herself in these stupid situations but then honestly can't understand why she's getting such a shabby reputation."
Article continues below advertisement
Taylor tried her hardest to please Harry, the source insisted, but their lifestyles were just too different.
"Harry wants to go out to fancy bars and clubs and enjoy being young – but Taylor's more of a homebody and all she would talk about was antiques!" the insider says.
"It drove him crazy, so he gave her the elbow!"
Once again, Taylor was left heartbroken over another failed relationship.
"Taylor was beyond obsessed with Harry and she was over the moon when he agreed to take their relationship public," the source says.