That Was Fast! Taylor Swift & Harry Styles Breakup!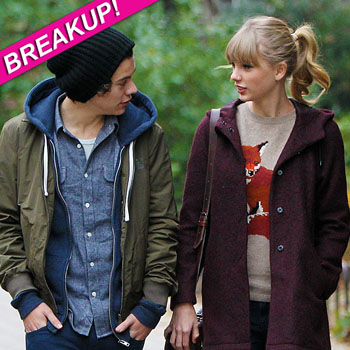 A new year, another breakup! Taylor Swift and her boyfriend Harry Styles have broken up after just a few weeks of dating!
The 23-year-old singer and her 18-year-old One Direction singer boyfriend spent New Year's Eve together smooching in Times Square but apparently they've called it quits already.
The happy couple jetted off to Virgin Gorda, one of the British Virgin Islands on January 1, but their tropical vacation didn't last long.
Article continues below advertisement
Taylor was spotted flying back to the U.S. on January 4 "after getting into a heated argument with Styles that ended the two-month relationship," Business Insider reported.
Perhaps Taylor headed home to write a revenge song about Harry?
He is starting off his single life with a bang in the New Year.
"Richard Branson heard Harry was staying nearby so invited him to come check out Necker," the source told Business Insider.
"So when Taylor left for the states, Harry went to Branson's island for the day to let off some steam."
He was only on Necker for a short time, and returned to Virgin Gorda, where "he did plenty of partying and was definitely enjoying himself while hanging out with guests. He returned to Virgin Gorda in the early morning hours looking like he had a raucous night."
Taylor, who ended her summer romance with Conor Kennedy before dating Harry, cryptically Tweeted "…til you put me down," on January 5, but hasn't confirmed whether she and Harry are dunzo.