Recording A Hate Song For Harry? Taylor Swift Hightails It To The Studio After Styles Split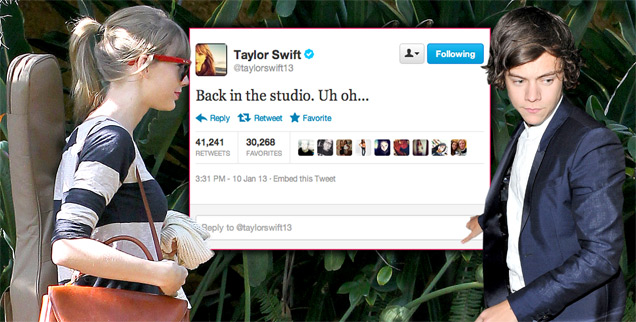 Article continues below advertisement
Casually clad in blue skinny jeans, a striped top, brownish boots, a matching bag and carrying her guitar across her shoulders, the singer looked incredibly focused as she arrived at the Los Angeles area studio.
"Back to the studio," Taylor tweeted, adding "Uh oh…"
As previously reported, Swift has a habit of embarrassing her ex-boyfriends by writing songs about them, something that John Mayer, among other famous ex-beaus was none too happy about!
However, Taylor refuses to admit she's doing anything wrong, explaining to The Daily Beast that she only sings about people that really mess up her life.
"I take these songs and these people who inspire these songs on a case-by-case basis," she says. "If there were someone who was a good person, I'm not going to write something bad about them. But if they handle a situation in a way that really messed up my life for a while, that's what I'm going to write about."
Article continues below advertisement
And furthermore, Taylor doesn't believe it has ever scared someone away from dating her, but it always becomes an issue when the relationship starts to crumble.
"I've never had a guy say to me, 'I was thinking of asking you out, but I was afraid I would end up in that song.' I have had a guy say, as we were breaking up, 'You better not write a song about this.' At which point, I proceeded to write an entire album about it."