Exclusive
Sin City Rules Star's Bizarre Life: Swigs Lambs Blood, Has A Trust Fund Monkey & A VERY Unusual Anti-Aging Method!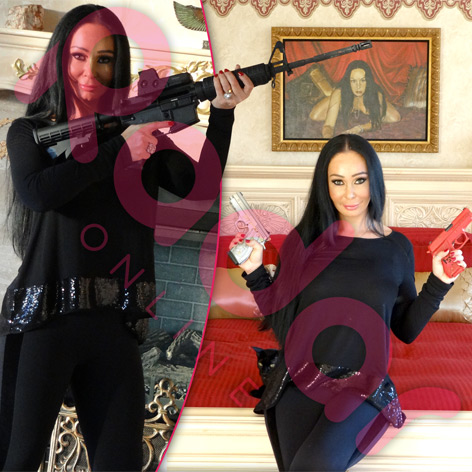 Created by the same production company behind the Real Housewives franchise, it's no surprise that Sin City Rules dished up plenty of drama and entertainment when it was debuted last year, especially with the help of its most controversial cast mate, Lana Fuchs.
Proving that sometimes real life can be even more bizarre off camera than on, the mother-of-two sat down with RadarOnline.com for an exclusive interview, where she revealed that she regularly drinks lambs blood, has a ridiculously pampered pet monkey and uses a VERY unconventional anti-aging method!
Article continues below advertisement
Talking about her upbringing and subsequent rise to reality TV infamy, Fuchs admits that her life literally went from "rats to riches."
"I came from nothing. My family were poor immigrants from Russia when I moved to Brooklyn at 8 years old and we lived in a one room rat infested apartment," she explains about growing up poor. "When I was 19, my father asked me to go on a blind date with Victor and I hated the idea but couldn't say no to my dad. We hit it off, but had no money until together we started Helix Electric and took over Nevada. We light Las Vegas!"
The star uses her new found wealth to indulge in the finer things in life, like exotic pets, and spoils them more than most wealthy people spoil their children!
"My pet Capuchin, Mikey, is my primate child! I paid $10,000 for him and he has his own butler, trust fund and twitter account. He takes four lavender baths a day and only drinks Fiji water and Capri Sun. Really, I've tried Evian and he opens it, takes a sip and throws the bottle at me. He understands English, Spanish and Russian and has his own 2 pound poodle, they are so cute together," she divulges.
Article continues below advertisement
Perhaps as a nod to her Eastern European heritage, Fuchs admits that like vampires, she finds pleasure in drinking blood!
"When I was little my father was cutting raw meat for shish kabobs and I tasted it and just loved it," she explains. "Later in life I visited Armenia and tried it again at a restaurant and they offered me a shot of lambs blood. I have never done drugs in my life, but all I could think when I drank it was this is incredible and must be how people feel who do drugs. Now I enjoy it regularly."
And, who needs expensive anti-aging creams when you can get a substitute product for free? The reality star reveals her shocking secret to youthful beauty.
"I love sex, the more sex the merrier. If I go one day without it I get very mean," she says. "Sex keeps me youthful and happy and I want to live a long happy life. Also, I have traveled the world and learned a great deal about many things and one of those important things is to rub sperm on my face at least five days a week. It seems to be working don't you think?"
Article continues below advertisement
She also confesses that she likes to spend her money on attention-grabbing party companions – in the form of little people.
"The reason I have gone to parties with dwarfs is because I can!" Fuchs shares. "One day I just decided that would be fun. I was thinking of Snow White of course and then I asked one of my assistants to hire little people to accompany me to a party. I was given a book and was able to choose the ones I wanted. I chose 7 but only six showed up. One dwarf bailed on me! It was a lovely evening anyway."
Just because she referred to herself as God in a speech, it doesn't mean that she believes she rules the world.
"I share my feelings and I'm confident in my beliefs," she explains. "I am God and so are you. It is my belief that we are all part of one big infinite cosmos. We all have the power of God and once we own that we can do anything. To me life is a game that is meant to be enjoyed and that is what I do."