To Russia With Love! Gerard Depardieu Bids France Goodbye, Gets His New Passport From Vladimir Putin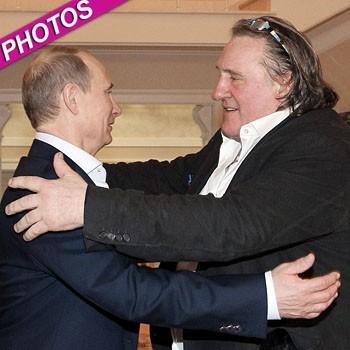 Gerard Depardieu has taken Russia up on its offer to make him a Russian citizen, and Sunday morning received his new passport from none other than President Vladimir Putin.
The Green Card star, who looks like he's been eating way too much fromage, gave the hard-bodied Putin a Russian bear hug on the occasion of their meeting.
PHOTOS: Gerard Depardieu Accepts His Russian Passport From Vladimir Putin
Depardieu has been loudly protesting the plan of France's new president Francois Hollande to tax any income over one million euros ($1.3 million) at the rate of 75 percent.
Article continues below advertisement
As RadarOnline.com has reported, Depardieu has already listed his extraordinary Paris home for sale, and has said he plans to move across the border to Brussels.
But that didn't mean the actor, who was recently busted for driving his scooter while drunk, didn't want to take advantage of Russia's offer, and his meeting with Putin this morning was even shown on Russia's state-run Channel One TV.
The two men were seen shaking hands and hugging each other as they met at Putin's residence in the Black Sea town of Sochi.
"A brief meeting between the president and Depardieu took place," Kremlin spokesman Dmitry Peskov said. "On the occasion of his visit to Russia, he was handed a Russian passport."