Gérard Depardieu Lists His Paris Mansion For $65 Million, Take A Peek Inside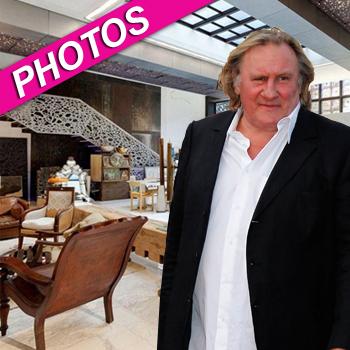 Gerard Depardieu has listed his historic Paris mansion for a wallet-busting $65 million.
Currently costarring on the big screen in Life of Pi, Depardieu has been trashed in France for his recent move across the border into Belgium to escape the new tax rates that will come into play after January 1. President Francois Hollande even went so far as to call The Green Card star "pathetic."
The main residence on Depardieu's magnificent property is nearly 200 years old. All together, there are 10 bedrooms is nearly 20,000 sq. ft. In also boasts a rarity in Paris, an indoor swimming pool.
Article continues below advertisement
At one point, the eccentric actor and businessman intended to convert part of the complex into a super-luxury boutique hotel to open in 2013, but he abandoned those plans earlier this year.
As RadarOnline.com has reported, Depardieu was busted in Paris in November for driving his scooter drunk, and he's been banned for life from Air France after urinating in his seat last summer.
You'd think they might be happy to see him go!