Sacre Bleu! Gerard Depardieu Arrested For DUI After Falling Off Scooter Drunk!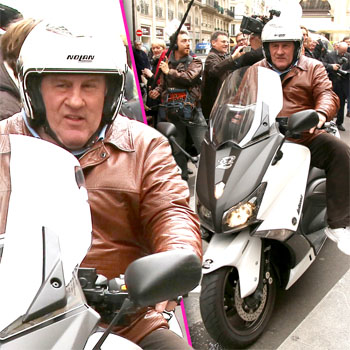 By Jon Boon - Radar Reporter
Frenchman Gerard Depardieu has been arrested for driving his scooter while under the influence of alcohol, RadarOnline.com reports.
The eccentric actor was held for questioning by cops on Thursday afternoon after a minor accident in Paris, which saw the burly Green Card star fall off his scooter and scrape his elbow. No one else was hurt in the accident.
When police arrived on the scene, Depardieu, 63, failed a sobriety test blowing a blood alcohol level of 1.8 grams per litre, nearly three times the French limit for driving of 0.5, Agence France-Presse reported.
Article continues below advertisement
He was then brought to a police station to face misdemeanor charges "after a period of sobering up," a source told the French news agency.
This is isn't the first time Depardieu has found himself in hot water with the authorities on the road.
Back in August, a motorist filed a complaint against the larger-than-life character accusing him of assault and battery following an alleged altercation in Paris.
Depardieu was accused of punching the motorist after his scooter allegedly collided with the unnamed driver's vehicle.
And last August, Depardieu was given a life-time ban from Air France after urinating in the aisle of a plane.
Passengers on the flight said Depardieu appeared drunk and said he was desperate to use the bathroom during takeoff, which is, of course, prohibited.
In a statement issued on Depardieu's behalf to French media, actor Edouard Baer - who was traveling with him on the flight - said he had passed the Golden Globe winner a bottle in which to urinate, but it had overflowed.
Article continues below advertisement
"Gerard was upset at this and offered to clean up the mess," Baer said.
"He has prostate problems and it was very worrying and humiliating for him.
"He was also stone-cold sober at the time. This is not the way he usually behaves."
RELATED STORIES:
Joe Simpson Formally Pleads No Contest In DUI
Can A Leopard Change Its Spots? Infamous Drug Addled Blogger Cat Marnell 'Is Considering Sobriety'
Bobby Brown's Deep Depression Over Bobbi Kristina Led To Hitting The Bottle Again