Anderson Cooper Lands First 'Post-Pee' Interview With Gerard Depardieu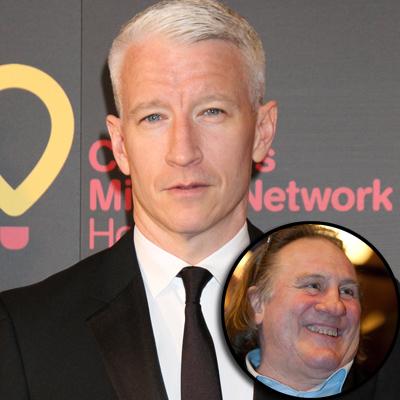 You'd think that Anderson Cooper would have had the same chance of getting the first 'post-pee' interview with actor Gerard Depardieu as Nancy Grace would have landing 'Tot Mom' -- but the Silver Fox did it!
Cooper -- who famously disintegrated into a giggle fit during a recent "Ridiculist" segment that mocked Depardieu -- Thursday taped an interview via satellite with the Green Card star for his new talk show, which premieres Monday, September 12.
Article continues below advertisement
In the interview, Depardieu explained what happened when he decided to not wait for the toilet on a recent flight from Paris to Dublin: "I say Madame, I have to pee. I not sick, I not a terrorist. I just want to pee!"
But the toilet door was blocked, So Depardieu says he reached for his water bottle. But it was "much too small. I am an elephant!"
Cooper: "'So it got on the floor?"
Depardieu -- showing he has a sense of humor -- then issued a challenge to Cooper, saying he could make him giggle like a Justin Bieber fan again.
Depardieu -- using a thick English accent -- then started singing, "Poo, poo. Next time I make a poo poo."
Russell Armstrong and Taylor Armstrong In Happier Times
Cooper laughed and told the French actor, "I think you won the challenge." The interview with Depardieu is slated to air next Tuesday.