Exclusive
Sin City Fights! Lana Knows 'For A Fact' That Alicia Had Sex With Married Men!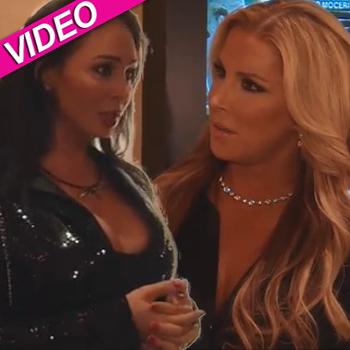 By Alexis Tereszcuk - Radar Entertainment Editor
Sin City Rules has turned into Las Vegas Fights, and RadarOnline.com has the exclusive scoop on the nasty feud between Alicia Jacobs and Lana Fuch and her having sex with married men rumors!
Alicia is furious with Lana, accusing her of spreading vicious rumors about her sleeping with married men, and they go at each other in this exclusive sneak peek of the upcoming episode of the Vegas based reality show.
Article continues below advertisement
"I don't like people who are fake," Lana told RadarOnline.com about her dislike for Alicia, and said she isn't backing down.
"People call me a b*tch and you know what? I'm just speaking my mind and I have nothing to hide."
In the video Alicia denies that she ever slept with a married man, but Lana says that she knows for a fact that the affairs did happen.
Watch the video on RadarOnline.com
"Before I started the show I found out so much about all of these women, and more than one person told me about Alicia sleeping with married men. I would have to be suicidal to say who they were, but trust me, I know the names and I know it happened."