Some Storage Wars Cast Members Told Execs To Keep Faking The Show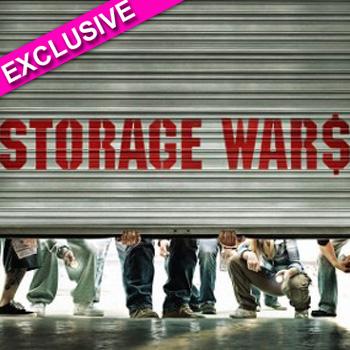 Article continues below advertisement
While A&E has been silent on the lawsuit, the network has never backed off its previous statements that the show is real and not staged. But evidence is mounting to back Hester's claims of rigged episodes.
"In one meeting with executives Brandi (Passante) and Jarrod (Schulz) stood up and said they wanted the show to keep salting their lockers," one source told RadarOnline. (Salting is the practice of planting interesting and valuable items in lockers to add dramatic effect and increase ratings.)
EXCLUSIVE: Dave Hester Sues Storage Wars, Cast Confronted Execs Over Show Being Faked
In the meeting, which took place earlier this year, the subject of faking scenes came up and Hester voiced his objection.
"But Brandi and Jarrod were all for it," the source said. "They said they were even in favor of more salting!" (Schulz did not return RadarOnline.com's request for comment.)
As RadarOnline.com reported exclusively, producers were so brazen about faking scenes that they left a trail of emails, receipts and reimbursement checks all connected to items that were planted in lockers. And during the first season, filming was sometimes stopped in front of many witnesses while an item was planted.
Article continues below advertisement
"Brandi and Jarrod have benefited greatly from the salting," says a source. "The execs have provided many of the items for them. Some of the other cast members provided their own items and then were paid a 'rental' fee for the show using them."
Hester's lawsuit describes two meetings between show executives and some cast members in 2012 where faking scenes was discussed. The first meeting was Sept. 6 with Neil Cohen, A&E vice president, talent and production. "Hester complained that he believed it was illegal for Defendants to continue to salt the storage units," the lawsuit alleges.
But it was at a later meeting where Jarrod and Brandi voice strong support for salting items and faking scenes, a source told RadarOnline.com. Cohen was at that meeting and so were executives from both the network and Original, the production company.
"Salting and faking scenes was openly discussed," an insider said. "Hester talked about it openly. And when talk turned toward possibly stopping it Brandi and Jarrod made it very, very clear they were strongly in favor of it."
Article continues below advertisement
Another source adds that the network does not want to admit scenes are faked or dramatized because they are turning the concept of Storage Wars into a franchise.
"There's already Storage Wars Texas and Storage Wars New York is being worked on," the source told RadarOnline.com exclusively. "And they are hoping for even more."
While some of the show's defenders have said it would be impossible to plant things in lockers due to the process of how they are sealed, others say there are many eyewitnesses and proving it will be easy.