Storage Wars Scandal Grows: Emails, Receipts Prove Show Planted Items – Shocking New Charges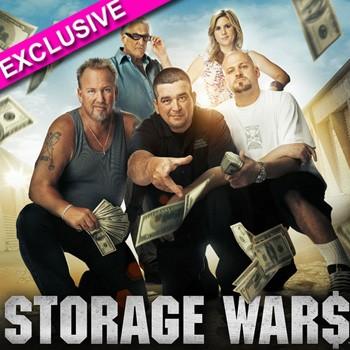 Article continues below advertisement
RadarOnline.com broke the story that Hester sued A&E and the show's production company. Hester charges in court papers that the show is rigged with producers routinely placing valuable and interesting items in storage lockers to be "discovered" by the bidders for dramatic effect and increased ratings. He claims the show fired him after he loudly complained about the escalating practice.
While the network has previously insisted the show is not faked, RadarOnline.com has now learned that a series of emails and receipts can help prove items were planted in lockers, especially during the reality show's first season.
EXCLUSIVE: Dave Hester Sues Storage Wars, Cast Confronted Execs Over Show Being Faked
"There are invoices, checks and other documentation where the production company actually compensated cast members for supplying items that were planted in the lockers and then 'discovered' on camera," one source with knowledge of the situation told RadarOnline.com exclusively.
Here's how it worked, according to the source: During the show's first season, producers asked some cast members to provide interesting items that were then planted in lockers and discovered on camera. Those cast members already owned the items so the production company then paid them a "rental" fee for the on-camera usage of the items. This left a trail of emails, receipts and reimbursement checks, RadarOnline.com has learned exclusively.
Article continues below advertisement
"There are emails to certain cast members about items. Certain cast members then sent the production company invoices for items they 'discovered' on camera that match the story lines – items they already owned," the source told RadarOnline.com. "And then there are checks where those cast members were reimbursed for the items they planted that were discovered on camera."
Some of the receipts and reimbursement checks are extremely clear about the item being referenced, and those items match what was found on camera!
The evidence is beyond compelling, says the source, adding: "I don't see how the network or production company can say this never happened."
Not all cast members supplied items to be 'discovered.' For some, the items were provided by the production company, sources tell RadarOnline.com.
Storage Wars Star Spends 45 Days In Jail — His Secret Drug Arrest
And just as damaging for the network and production company is that the items were planted in the middle of taping an episode, leaving many eyewitnesses, an insider tells RadarOnline.com.
Article continues below advertisement
"There were many times when a bidder was going through a room they bought and suddenly the production company would stop taping," the insider revealed. "Then they would take the item to be 'discovered' and place it in the room right in front of the bidders and some crew members!
"This was especially true during the first two seasons. Then they would start filmingagain and the bidder would suddenly 'find' the planted item!
"It's so obvious it's ridiculous."
A&E and the show's production company have not commented on Hester's lawsuit or updated their denial that the show is staged.
Auctioneer Dan Dotson told RadarOnline.com the show is NOT staged, pointing to a series of protections that are built in to prevent unauthorized people gaining access to lockers before they are sold.
Flipping Out's Jeff Lewis: Why I'm Suing My Co-Star Jenni Pulos
Article continues below advertisement
But those denials are just a smoke screen, two sources close to the show told RadarOnline.com independently.
"The lockers were salted AFTER they were bought," one source said. "So Dan's explanation about how there are seals on the lockers and no one can get into them is simply wrong in this case."
And another source added: "There was also a time on the show when a locker was quickly described as something like a 'special unit,' disguising the fact it wasn't a real storage locker and in fact had been completely rigged by producers."
Beverly Hills top attorney Marty Singer of Lavely & Singer is representing Hester and his lawsuit refers to meetings with top executives where Hester objected to the "salting" of lockers.
Hester and Singer have not commented publicly on how they will proceed with the lawsuit.
But one source close to several people on the show told RadarOnline.com: "There are so many people who know what was going on, so many people who were eyewitnesses to the show being rigged anditems planted that it's hard to understand how the network and production company will be able to stick to their denials about that."