Exclusive
Storage Wars Star Spends 45 Days In Jail — His Secret Drug Arrest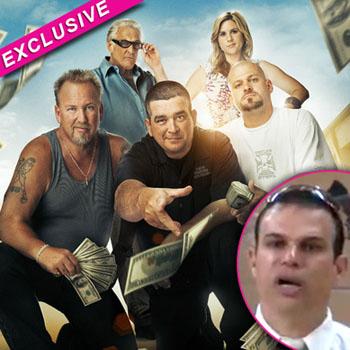 Article continues below advertisement
Now we've learned that Mark Balelo, who is being used to fill the void of Hester's on-screen absence, recently spent 45 days in jail after being sentenced to 132 days for a probation violation.
Balelo pled guilty to the felony charge of sale or transport of a controlled substance in 2009. At that time he was sentenced to 60 days in jail and given three years probation. But he violated that probation in 2011 and was sent back to jail late in the year.
Balelo, who has been taping episodes in place of Hester, confirmed his drug conviction to RadarOnline.com in an exclusive interview, explaining that a hotel room was rented in his name and his friends were partying there. " I wasn't even there. It's not a big deal," he told RadarOnline.com.
But in June, 2011 police discovered Balelo transporting a firearm, which he found in a storage locker he bought. Around the same time Balelo left the state as part of a custody battle over his children. He was jailed for months for the probation violation.
Article continues below advertisement
"The whole thing was terrible," his girlfriend Elizabeth Metzidis told RadarOnline.com in an exclusive interview. "I want people to know that Mark has a heart of gold.
There's a very dear and good side to him.
"I have a son who has autism and he's been very active raising money for that cause. At auctions, he'll donate a (storage) lot for the cause."
While Balelo hopes his troubles are in the past, Storage Wars is still mired in controversy, locking out perhaps its best-known character and facing charges that the show is rigged.
"Hester is out and the rest of the cast is working without fully negotiated contracts," one source says. "And the network is telling everyone not to talk about it."
Hester is the cast member who generates the strongest reaction from both the audience and his fellow storage locker bidders. Known for his trademark "Yuuupp", he seemed to be an integral part of the show until A&E suddenly rescinded his offer for season four. (Hester is seen in new episodes now airing but they were taped before the contract dispute.)
Article continues below advertisement
Hester said, "I have no comment" when reached by RadarOnline.com and asked about his contract status with the show.
VIDEO: JLo Reality TV Show Caught Faking Scenes
The show is also facing a growing rumble about its lack of authenticity.
"There are allegations that interesting items are placed in the storage lockers for the 'bidders' to discover during taping," a person familiar with the situation told RadarOnline.com.
A&E has previously denied that the show is faked in any way.
"There is no staging involved. The items uncovered in the storage units are the actual items featured on the show," a publicist for the network said previously.
A ratings winner for A&E, Storage Wars still pulls in a large audience but has slipped recently.
Balelo first appeared on the show in Season Two and has been a minor character but execs want to beef up his role now that Hester is out.
"They think they are going to use this guy to replace Dave Hester," a source told RadarOnline.com.
Article continues below advertisement
Balelo has had plenty of real-life drama, as court records uncovered by RadarOnline prove. On December 14, 2007 he was arrested for three felonies: possession of a controlled substance, possession of a controlled substance with intent to sell and sale or transport of controlled substance. The first two charges were eventually dismissed but on Feb. 9, 2009 he pled guilty to the third charge.
His recent probation violation and time in jail was difficult for those around him. "It's a bad situation and he's trying to get custody of his kids," his girlfriend Elizabeth told RadarOnline.com. "Those charges were in his past and it's an unfortunate thing his ex girlfriend tried to pull.
"When he buys storage units we come across weapons, drugs and all kinds of things. There was a situation in June 2011 where he was carrying the contents of several units and was stopped by police.
"They asked if he was on probation and he said yes. So they searched everything and found things Mark didn't even know was in the car.
"But I want people to know he is a very good person who was just in a bad situation."