Storage Wars Locks Out Its Star, Refuses To Let Him Shoot New Episodes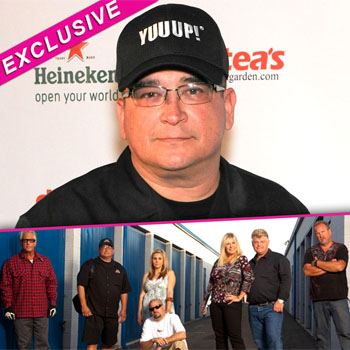 By David Perel - Executive Vice President/Managing Editor Radar
The most interesting war on the hit show Storage Wars is not between the contestants bidding for lockers, it's the one pitting the show against its best-known star.
Execs at A&E have locked out Dave Hester, blocking him from filming several shows for the new season as tensions mounted between the two sides, RadarOnline.com is reporting exclusively.
Article continues below advertisement
And while Hester will be seen on the Season Four premiere December 4, that episode was taped before the reality show locked him out.
"They did not let Dave film the first several shows," a source with knowledge of the situation told RadarOnline.com exclusively.                      
As Radar previously reported, Hester was sent a contract option for the new season and then it was rescinded. That controversy has played out amid charges the show is fake, with valuable and interesting items placed in lockers for the cast to "discover!"
The situation with Hester grew worse after our first exclusive story.
"The network and production company has the power," our source added. "The rest of the cast is working without having their contract issues fully worked out.
"And Hester simply was not allowed to tape. He had no offer."
Hester is arguably the show's biggest star and its most polarizing. Fans love and hate him, with his signature "Yuuup!" during bidding the most recognizable catch phrase on Storage Wars. He is a foil and irritant for the other bidders, including Darrell Sheets, Jarrod Schulz, Brandi Passante and Barry Weiss as married auctioneers Dan and Laura Dotson pace the action.
Article continues below advertisement
Ratings have slipped for the show and the network no longer views Storage Wars as its top priority, one insider told Radar.
"It's tough to fight the network," the source said. "Executives with the show have even warned people who work there not to talk about what is going on, after Radar's last story came out."
A&E has several shows in the can with Hester and viewers will see those first. But as taping rolled in November, Hester was locked out and considering his options.
"I think he wants back on the show," one person told Radar. "But the network played hardball with him."
As cast members try to negotiate better deals and reimbursement for certain expenses they've simply been told no.
"Inside the network the feeling is 'we're going to tape this show with or without you,'" a source told Radar.
And in the case of Hester, it has been without.
A&E did not respond to Radar's request for comment.