Kody Brown Admits 'It's Not Easy' Being Affectionate In Front Of All His Wives, Jealousy Makes It Difficult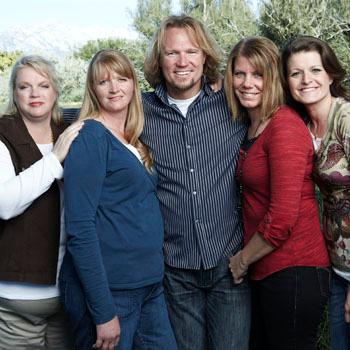 On Sunday's episode of Sister Wives, the Brown family went on a "polygamist vacation" with the Dargers, another polygamist family from Utah, and the beach vacation caused the Browns to rethink how they do things as a family and RadarOnline.com has the details.
Interestingly, the families shared their thoughts on all the wives being able to be affectionate with their husband -- or lack thereof.
Article continues below advertisement
"For me to be openly affectionate with all four of my wives works in theory," Kody said. "We want it in theory. In practice, it's not easy at all."
"In theory, we don't want to have jealousy at all. In theory we want to be able to completely be secure with ourselves and our relationship with Kody so that when Kody does anything for a sister wife, we're happy for them," Robyn said.
"We've got so many other things that we have to deal with in our family and our relationships that we have jealousy over," Meri said.
"Sometimes I feel like why add one more thing on when we don't have to, when we can step back and have our own relationships and affection in private with him."
The families also discussed the difficulties with wives sharing a kitchen.
"When Kody makes the statement, 'Wives having the same kitchen can be abusive,' it makes me sad because I take it personal," Meri confessed.
"Because I know that Janelle feels like I abused her in our relationship in the beginning. I had a louder voice and a stronger voice, and I had not yet learned how to temper that."
Article continues below advertisement
"There were no role models for us to follow," Janelle admitted.
"I had no idea that I could say what I wanted, and Kody had no idea that he was supposed to be listening for me."
During the vacation, it was immediately apparent that the Dargers run a much tighter ship than the Browns.
"There are things definitely in that family that I think we could benefit from," Meri said.
When it came to room assignments, Kody had a simple way of doing things.
"We don't assign rooms…we just rock paper scissors it," he said.
During a sit-down, the Browns and the Dargers discussed similarities in their struggle to find acceptance as polygamists.
FIRST PHOTOS: Sister Wives and Kody Brown Welcome BABY Solomon
"Their story strongly reinforces many reasons why we decided to go public. Just the authorities coming and saying, 'Hey, we're suspicious of you because of who you are and your lifestyle and your faith,'" Kody said.
Article continues below advertisement