Kristin Cavallari: The Hills Was 'Pretty Fake,' Feud With Lauren Conrad Was Real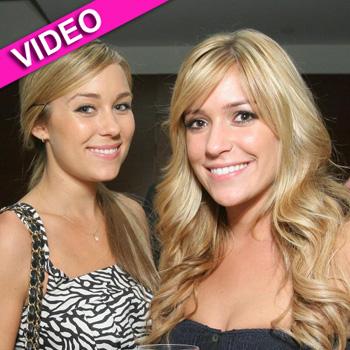 What?!? MTV's The Hills was fake?!? (LOL)
A hilariously honest Kristin Cavallari -- appearing on Bravo's Watch What Happens Live Monday night -- admitted the reality TV show was "pretty fake" and said that she was told what to say "pretty much."
Cavallari -- who gave birth to son Camden Jack Cutler on August 25 -- made the surprisingly candid comments to host Andy Cohen during his 'Plead The Fifth' Q&A segment. She also confessed she had a series of "fake relationships" and "fake fights" during her two seasons on the show, which began after her nemesis Lauren Conrad left midway through season 5.
Article continues below advertisement
"Wow! That's amazing," responded Cohen, who now oversees some of the most successful reality shows on television. In fact, The Real Housewives of Beverly Hills star Taylor Armstrong was his other guest on the program.
'Sorry!" new mom Cavallari, 25, sheepishly replied.
When Cohen next asked which of her MTV cast mates she regretted dating, Cavallari said: "No one, I would say Justin (Justin "Bobby" Brescia) but I never really dated him."
"It WAS fake…" Cohen stated.
"Yeah…" she replied.
Cohen then said: "So you were like an actor…you were making out with him…"
"I think I made out with him once, and that took a lot of convincing. Finally I was like, 'All right, I'll just do it!'" she said.
"But it was fun," Cavallari admitted, "because when you're acting, it was more fun for me."
At this point, Taylor Armstrong -- laughing uncontrollably -- interjected, saying: "Can we start acting on OUR show? Do you think I would look like such an assh*le if I were scripted? I would have fought for a line or two. I wouldn't have ended up in a suitcase!"
Article continues below advertisement
"That was awesome!" Cavallari jokingly said back.
Cohen then told Cavallari that when her "nemesis" or "rival" Lauren Conrad appeared on the October 16 episode of Watch What Happens Live, she played the same 'Plead the Fifth' game and was asked to say three nice things about Cavallari.
After playing the videotape for Cavallari, Cohen then asked her to do the same Monday night.
"She is a very pretty girl -- I know she said the same thing. She's very successful," Jay Cutler's fiancee said about Conrad. "And we actually have had a lot of really fun nights together, so she can be a lot of fun."
Cohen then asked Cavallari if her "distaste" for Conrad was "fake for the camera too?" Cavallari laughed loudly and blurted out: "No! I feel like producers put things in our heads. I mean, we were 17 and 18. They made it a lot worse than it was."
Watch the video on RadarOnline.com
Watch What Happens Live airs Sunday through Thursdays @ 11/10c on Bravo.
youtube