How 'Storage Wars' Faked Show & Tried To Hide It: New Lawsuit Details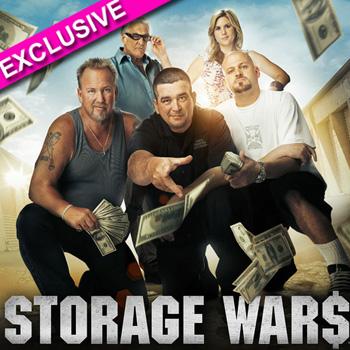 By David Perel - Executive Vice President/Managing Editor Radar
After 52 episodes of faking scenes, the executives in charge of A&E's hit reality show Storage Wars created a new scheme even after cast members expressed concerns, according to an explosive new lawsuit, RadarOnline.com is reporting exclusively.
Dave Hester, one of the best-known personalities from the show that features bidding on abandoned storage lockers, is suing A&E and the show's production company, alleging he was fired after complaining to execs that the show was rigged.
Article continues below advertisement
DOCUMENTS: Read The Complaint David Hester Filed Against Storage Wars
The suit, filed by Beverly Hills powerhouse attorney Marty Singer, offers specific and explosive detailed allegations about how the show is faked.
In season one, "Defendants requested that Hester provide valuable items that would be planted by Defendants in the storage lockers acquired by Hester," the suit charges. Hester agreed but then complained to a co-executive producer and the show dropped its request.
But in season two, Hester complained again to the same producer as "Defendants continued to salt the storage units" of other cast members, the suit alleges.
In season three, show execs took things to a devious new level, according to the papers. Previously, when bidders won a storage locker, they placed their own lock on it. "However, in Cycle 3, Defendants insisted on using their own locks on the storage lockers portrayed in the Series…it was obvious that Defendants were continuing to salt the storage units , including those purchased by Hester," the suit states, adding that it was done outside of Hester's presence and without his knowledge.
Article continues below advertisement
But it soon became apparent what was happening, the suit says, because when Hester would examine a locker he bought, "production staff would prod him to 'check out' certain boxes or direct him to unload his unit in such a way that he would be certain to 'discover' particular items that Defendants clearly knew had been planted in the unit."
The suit offers perhaps the most detailed charges of how a reality show is rigged, stating "A&E regularly plans valuable items or memorabilia. By way of example, in one episode a pile of old newspapers announcing the death of Elvis Presley was discovered. In another episode, a BMW mini care was found buried under a pile of trash."
Good luck by the bidders? Not a chance, according to the suit.
Original Productions, which produces the show, stages entire units and even finds and has interesting items appraised weeks before planting them the suit alleges!
ON YOUR RADAR: The Year's Biggest Reality TV Scandals
"Hester is informed and believes that a company called Off the Wall Antiques provides Defendants access to an entire warehouse full of marquee items, and in exchange, the owners of the establishment are regularly featured on the series," according to the suit.
MORE ON:
Celebrity Justice
Article continues below advertisement
Hester was one of the show's regular bidders, along with Barry Weiss, Darrell Sheets, Jarrod Schulz and Brandi Passante. And while the public has sometimes questioned the show's validity, the network has insisted it is 100% genuine.
But Hester's lawsuit will make it difficult to maintain that stance, based on his specific allegations. He claims that Original has paid for storage lockers "for certain cast members but not others in order to give the weaker cast members an advantage over the more experienced and successful bidders."
Storage Wars Star Spends 45 Days In Jail — His Secret Drug Arrest
His most intriguing allegation is that execs paid for a female cast member's plastic surgery to amp up the show's sex appeal!
Interviews with cast members are scripted, biding scenes are faked to the extent that as cast members are seen bidding while no auction is being held and the entiresituation is a violation of the Communications Act of 1934 (best known for its application in the 1950s fixed quiz show scandal), the suit alleges.
Article continues below advertisement