Senator Slams MTV, Wants 'Shameful' Buckwild Reality Show Canceled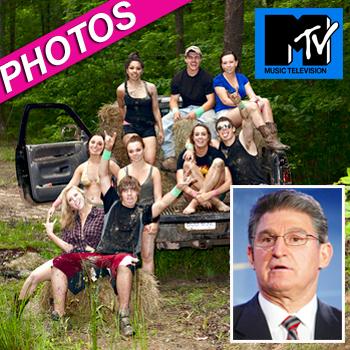 West Virginia Senator Joe Manchin has asked MTV honchos to cancel Buckwild, the upcoming reality show he thinks shows young people in his state engaging in "shameful behavior."
In a letter sent to MTV President Stephen Friedman, Manchin, a Democrat, said the show is "repulsive" and spreads "ugly, inaccurate stereotypes" about West Virginia. The Senator also claimed that Buckwild will profit "off the poor decisions of our youth."
Article continues below advertisement
Buckwild, the show set to replace Jersey Shore on Jan. 3 in its former timeslot, was shot in Charleston and Sissonville, West Virginia.
Manchin, the former West Virginia governor who was elected to the U.S. Senate in 2010 after longtime Senator Robert Byrd died, wrote to Friedman, "As a proud West Virginian, I am writing to formally request that you put a stop to the travesty called Buckwild. Instead of showcasing the beauty of our people and our state, you preyed on young people, coaxed them into displaying shameful behavior, and now you are profiting from it. That is just wrong."
While MTV hasn't commented, a producer of the new reality show, John Stevens, insisted to Entertainment Weekly that "It's not like looking at a train wreck."
Still, Buckwild sounds like what we can expect from the network that brought us Jersey Shore. Stevens said the kids on the show are "totally wild and carefree." Buckwild will have a Jackass style, he said, with a cast just out of high school engaging in mud racing, squirrel hunting, and rope swinging.