Flipping Out's Jeff Lewis: Why I'm Suing My Co-Star Jenni Pulos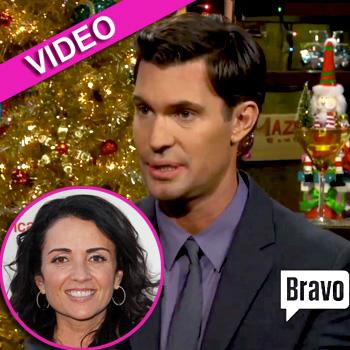 Saying he's "still in a state of disbelief over this whole thing," Flipping Out star Jeff Lewis is speaking out about his lawsuit against his longtime trusted assistant Jenni Pulos, who wrote a book entitled Hang in There, Baby -- What One of the World's Most Difficult Bosses Taught Me About Life, Work and Love.
Lewis -- appearing Tuesday night on Bravo's Watch What Happens Live -- claims Pulos breached a confidentiality agreement by writing the book, which has yet to be released. Although he knew she was writing a book last October, Lewis claims all she told him was that it was about her life.
Article continues below advertisement
In referring to the lawsuit, Lewis, 42, told host Andy Cohen: "It was the last resort. I feel like my hand was forced. Trust me, I tried to work out every possible reconciliation… It's really long and sorted."
When asked about their relationship, Lewis told Cohen that he and Pulos "had a really nice talk last week and that I think we're trying to work through things."
Lewis -- who noted that he was talking about the lawsuit against the wishes of his attorney -- explained that the book was written without his knowledge and said while he supports Pulos having new opportunities, he added: "I can't have her hurting me in the process" and said if she had "been more collaborative and not so secretive, there would have been a completely different outcome."
When Cohen asked Lewis what he was scared Pulos was writing about, he responded: "I pretty much show everything on the show. You know, a lot has to do with my clients because most of our experiences, you know there's a lot of talking behind-the-scenes, and I have to protect my clients. I can't have
Jenni spill her guts, do a tell-all because she wants to be the next Kitty Kelly. I can't have that happen. I've got to protect my clients and business because after this (the show) is over, that's all I have."
Article continues below advertisement
Oddly -- or as Cohen put it – "weirdly," Lewis has been shooting Interior Therapy, his spin-off from Flipping Out, with Pulos for a few months, and he sees her nearly every day.
Lewis responded: "This is what I'm going to tell you about Jenni. I love Jenni dearly. We have undeniable chemistry. I think we were married in a past life. I think we were brother and sister in a past life. It is such a strong bond that I don't think even this can break us. I think we're going to get through this."